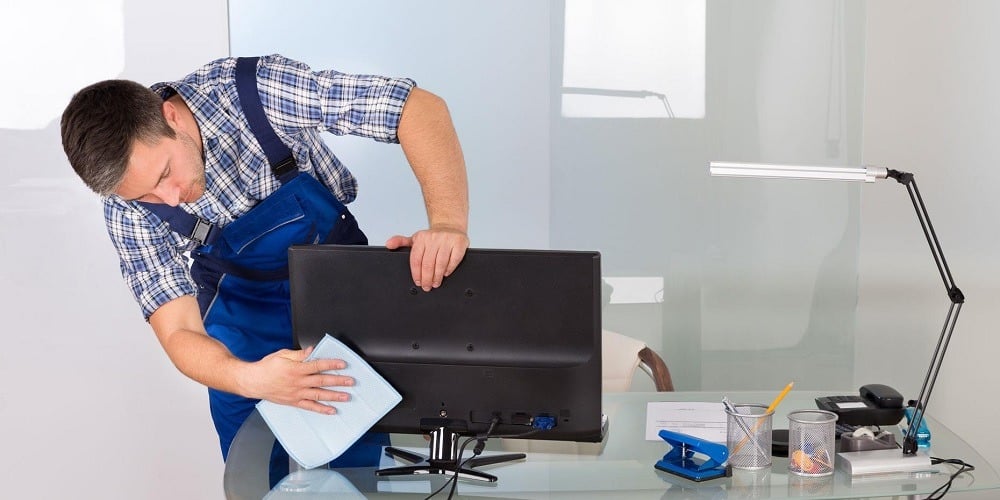 Lost hours at work can kill profits, stagnate growth, and impede workplace efficiency. Each year, employers lose hundreds of hours of work from employees over various issues, ranging from software issues to communication problems. In fact, 16% of lost work hours occur in administrative departments, with managers accounting for just over 7% of lost work hours annually.
With janitorial cleaning services experiencing exceptional demand throughout the country, finding ways to scale your company and ensure that management has the tools to supervise employees effectively is essential. Scaling can sometimes make it harder to monitor things like employee happiness and quality control, but janitorial management software provides solutions to these potential problems. Janitorial software can make it easier to grow your business, reduce expenses, and improve profitability.
1. Improves Efficiency
With the average employee only being productive for just under three hours a day during work, finding ways to limit lost hours and improve efficiency is crucial for any business. Janitorial companies are no exception.
Lost hours can also happen if you schedule too many or too few employees or send employees to the wrong job site.
Lost hours usually means employees aren't being utilized efficiently. If your client list suddenly doubles and your staff averages two lost hours per day, it can be difficult to grow without hiring more staff. Identifying lost hours can better position your company to take on new contracts and clients. Also, management can focus more on other tasks, like marketing and expanding your client list.
Janitorial management software allows you to create schedules, which ensures that the right number of workers is assigned for each job. When your goal is to grow your business, making sure that worksites are properly supported with enough workers protects against a poor customer experience.
If you have repetitive scheduling problems, it can be impossible to solicit new customers. Efficiently scheduling workers assures that you can accept additional customers without compromising deadlines.
Since software provides a quicker and more accurate method to manage accounting and payroll needs, it reduces the amount of time that staff spends inputting hours and managing payroll.
When you're attempting to expand your business or find new customers, it's imperative that you provide exceptional service. Negative reviews and unhappy customers not only can prevent growth, but it can also cause you to lose customers. The ability for managers to message and check multiple work sites without having to be there in-person can make it easier to take on new clients and contracts.
Figuring out a quality control issue before the customer does can also save your reputation. Managers having the ability to remotely monitor a worksite creates a safety mechanism, as supervisors can easily double-check work performed by employees.
Growing your business requires that you continue to meet the same standard even when your client list expands. Janitorial management software is a way to improve scaling.
2. Reduces Payroll and Scheduling Errors
Janitorial management software can track what time employees show up and leave work sites, which ensures that hours are accurate. Supervisors can see the exact amount of time that employees worked, which improves payroll accuracy and limits disputes about hours. Digitized schedules allow workers to check their schedules remotely, decreasing the chances of employees missing work because they were unsure of when their shift started. When employees can access schedules on their personal devices, it makes it easier to avoid scheduling conflicts. For example, a worker can check their schedule while making a doctor's appointment to ensure that the appointment doesn't interfere with their schedule.
Tracking hours and wages by hand can lead to mistakes, which can be costly. If your costs are too high, it's difficult to maintain profitability even as you grow your client list. If you don't properly schedule staff, it can lead to understaffed worksites, which can make it challenging to manage multiple jobs. That means software is a vital part of helping your business prepare for expansion.
Proper scheduling also reduces overtime costs, as an untimely time-off request can force managers to offer overtime to other workers willing to cover shifts. Optimizing scheduling ensures that you are not losing money. If you are paying some staff members overtime while others are only working part-time hours, it can cut into your profitability. When you choose to grow your business, profitability is crucial because if it costs more to find new customers than to maintain your current size, it can limit your business's true potential.
When your business grows, you likely will be managing more employees. Transitioning from having twenty-five employees to fifty employees can make it hard to manually craft schedules. It can also lead to more mistakes, which can cause canceled jobs and unhappy clients.
3. Increases Employee Satisfaction
Employees produce better quality work when they are happy. One way to track workplace morale is by using janitorial management software, which allows you to utilize mood tracking. Tracking moods enables management to spot and address morale issues before they impact the business.
Employees who are happy and satisfied with their job are 13% more productive. That means a happy employee is adding value to your business. If supervisors are remotely monitoring work sites, it can make it harder to uncover issues with employee satisfaction. Janitorial management software enables managers and leadership to evaluate and monitor workplace happiness.
Happy employees are more likely to have positive interactions with customers. Your employees represent your company. When clients see that your workers are happy, engaged, and positive, it creates a better customer experience. Happy employees are also more likely to go above and beyond for customers.
The focus on growth isn't just about finding new customers. It's also about keeping them. One way to convince new clients to stick with your company is to offer something better or different than a competitor. Friendly staff members can make a massive difference when it comes to acquiring and keeping new customers.
Happy employees are also more likely to talk positively about their employer. They can help your business grow by sharing your services with their social and personal networks.
Running a business isn't easy. Tools like janitorial software can help you save time and money. Whether it's automating scheduling or letting managers check in on work sites, janitorial software can help take your commercial cleaning business to the next level.
Swept helps commercial cleaning company operators achieve scalable business growth, improve their work/life balance, and spend less time managing cleaners and more time focusing on important business goals.
To learn how we can help you, schedule a free demo with our team today!