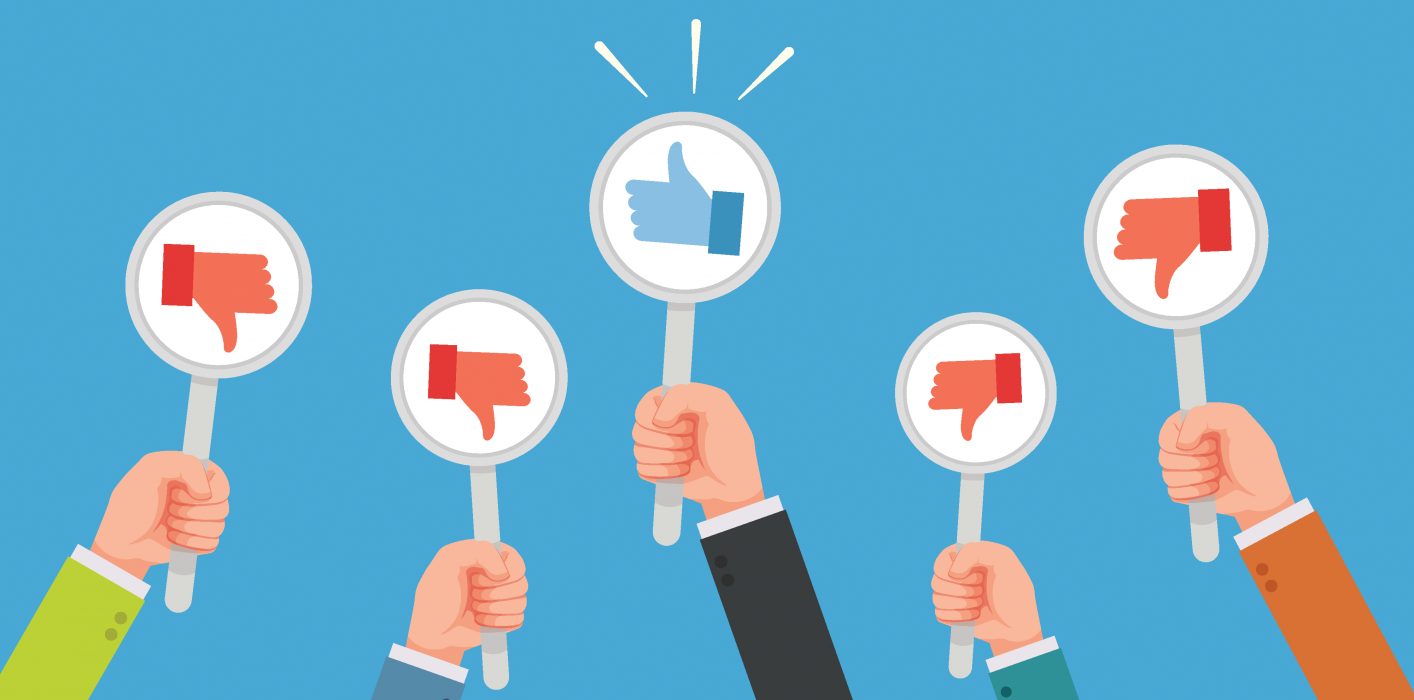 The Summer is in full swing, and we know you want to be outside of the office as much as possible. Who wouldn't right?
What better way to get caught up on your social media game than when sitting on a patio enjoying a nice summer breeze. Or perhaps even from the beach. How you tend to your company's social platforms is, of course, entirely up to you.
Even though we see social media as a constant in our lives, and a great channel to drive business, awareness, and leads, did you know that the landscape of these platforms changes dramatically every year? On the surface Facebook, twitter, and instagram look much the same year after year, but under the hood more things change than you realize. And your customers change too.
With that in mind, we've gone back into the depths of the internet to gather the most up to date stats and facts about social media in 2019, and present you with
4 Common Social Media Mistakes: 2019 Edition!
Read on to see what's new, what's popular, and what are some pretty easy to avoid mistakes …if you know what to look for.
Before we get started here are a few misconceptions held my MOST companies regarding their social media:
Roughly 80% of companies believe their social game is on point, and that they provide excellent customer service via their social channels…BUT…Only 8% of customers tend to agree. Seems like something worth fixing right?
Most (Over 50%) companies believe that Monday morning is the best time to post in terms of engagement. This may be true of emails, but for social media, they couldn't be more wrong. It may be easiest for them to post after the weekend is done, but between Thursday and Sunday is when clicks are at their highest (yes that means you need to post on the weekends)
Even more successful…Wednesday at precisely 3pm. Why Is that the absolute most successful time to post to social? We honestly have no idea. Moving right along…
Even though we all wish it was as simple as posting on our twitters, watching the likes flow and the customers roll in, statistically 96% of the people that discuss brands online do not follow those brands' owned profiles. Which means yes, you'll need to venture out of your comfort zone and post elsewhere on social media in order to get those engagements.
Hashtags. I love them, you love them, but did you know they actually do nothing at all? Yep, you've been wasting incredible amounts of time and energy making all those clever hashtags. Why? Because a recent study by Locowise discovered that adding hashtags had no effect on engagement rates. In fact, it was the tweets without hashtags that performed best. Who knew?
So to illustrate some finer points in this list, we created a hypothetical Twitter profile for "Snappy Janitorial" based on mistakes we've seen in REAL profiles belonging to ACTUAL companies in the janitorial industry to show you 4 Common Social Media Mistakes, and how to avoid them.
As you can see, Snappy Janitorial has left a lot to be desired with their Twitter profile: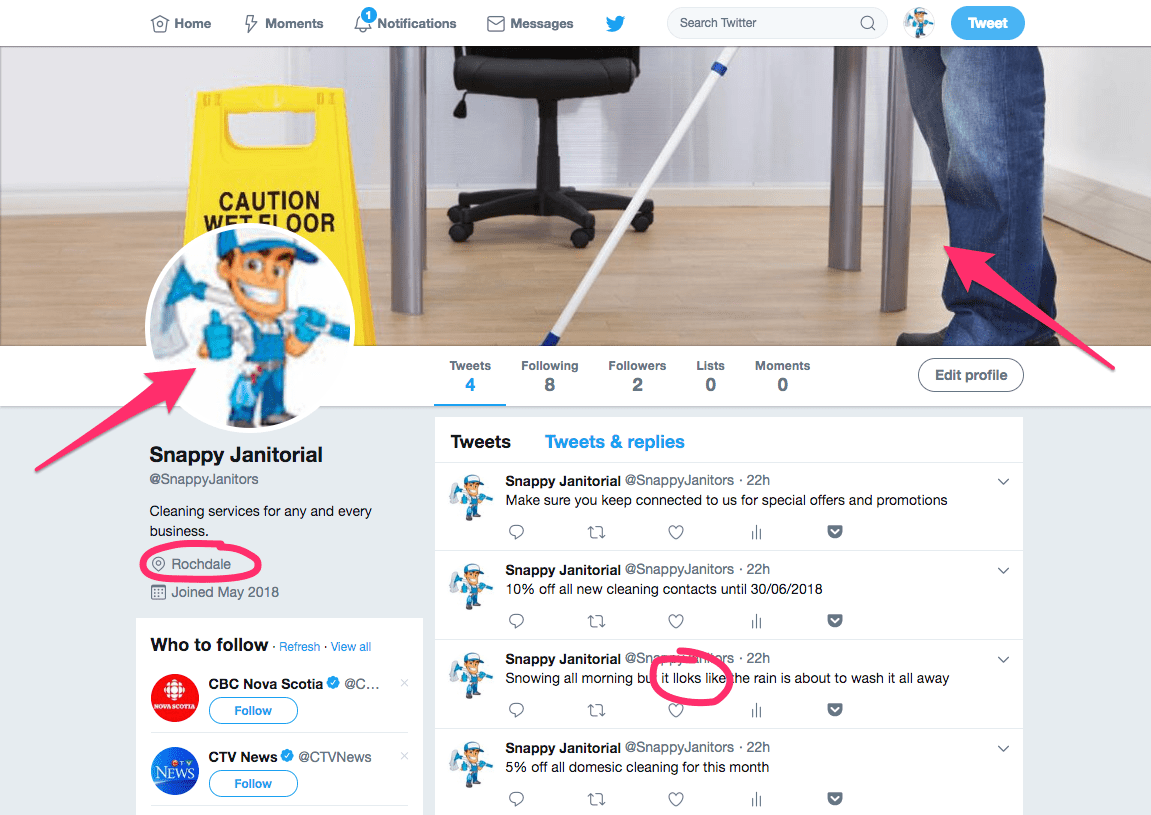 1. Not Completing Your Profile
At a glance, Snappy's profile may not seem too bad. Especially compared to the many accounts we see that are missing profile and cover photos! But did you know that 87% of marketers plan on using social channels this year for advertising? That means there are going to be a lot of companies out there who look more professional and snazzy than you do…and if you are sizing up a company based on their online profiles (and comparing them to other contractors, don't forget) these details can make a bad first impression.
The most obvious mistake here is not having a profile or cover photo. After all, it's kind of hard to miss a big egg for a head!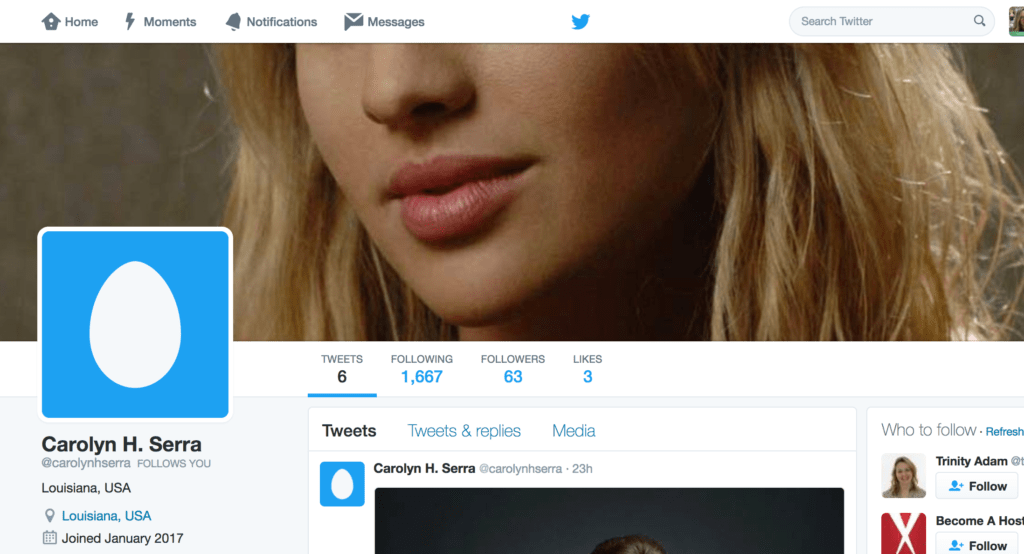 But of course, it's not just the photos that matter. Completing the rest of your profile — location, contact information, and depending on the channel, bio/description and business hours, also adds to your credibility and provides answers to some of your potential clients' initial questions.
Not convinced? Here's a prime example: Snappy's bio and location state that they serve Rochdale. But a quick Google search tells us that there are 4 places in the US called Rochdale, and 1 in the UK. Be specific about who you serve so that there's no confusion for people interested in your services!
Pro Tip: A company's best marketing asset: their website. Putting a link to your website in your bio is an easy win!
2. Not choosing the correct image sizes
Believe it or not, visual content is more than 40 times more likely to get shared on social media than other types of content. So make sure to post pretty things and not just words. This type of engagement doesn't just apply to posts though. Having appropriate, attractive, and engaging imagery across your profile is going to attract more people to stop and pay attention.
It's important to note that each social media platform requires different size images for profile and cover photos, as well as photos you post/share with your network.
Check out the cheat sheet below or click here for a detailed guide to images for social media.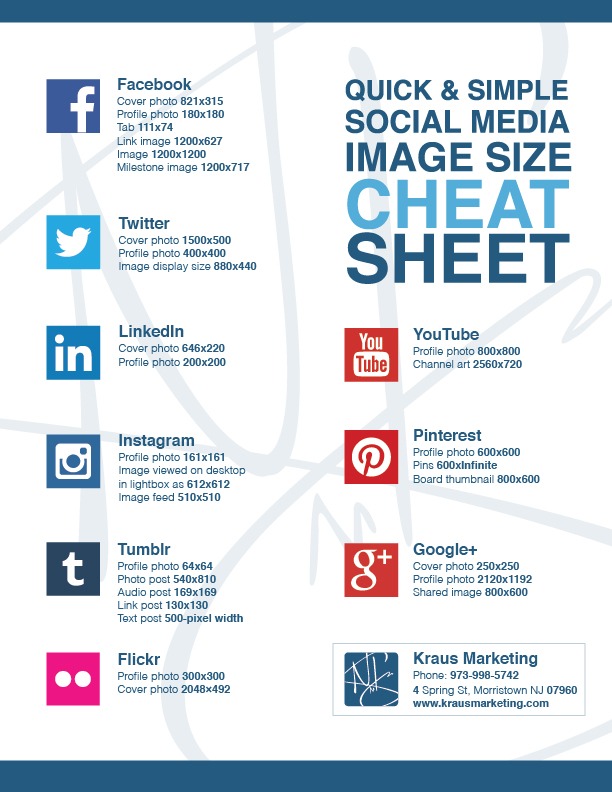 In the case of Snappy Janitorial, neither of their photos (profile or cover) fit properly. Their profile photo is pixelated (fuzzy) and also a bit too large for the frame, causing the janitor's head to be cut off. This means that the image size was too large, but the resolution (pixels per inch) too low. Meanwhile, their cover photo is poorly cropped, which tells customers "We're too lazy to find a photo that works here." Your social media photos are prime marketing real-estate, so treat them as such! Rather than choosing a generic image from Google, or boring stock photo (as Snappy has done), use your logo (sized correctly) as your profile photo, and find a cover photo that aligns with your brand.
Pro Tip: Don't have a logo yet? You can have one designed by a professional graphic designer for only a few dollars on websites like Fiverr. Selecting clip art from Google is a dead giveaway that your business either 1) not very established or 2) you don't pay attention to detail.
Below is a great example of a stock photo that works well as a cover photo because it fits perfectly, and feels "on brand".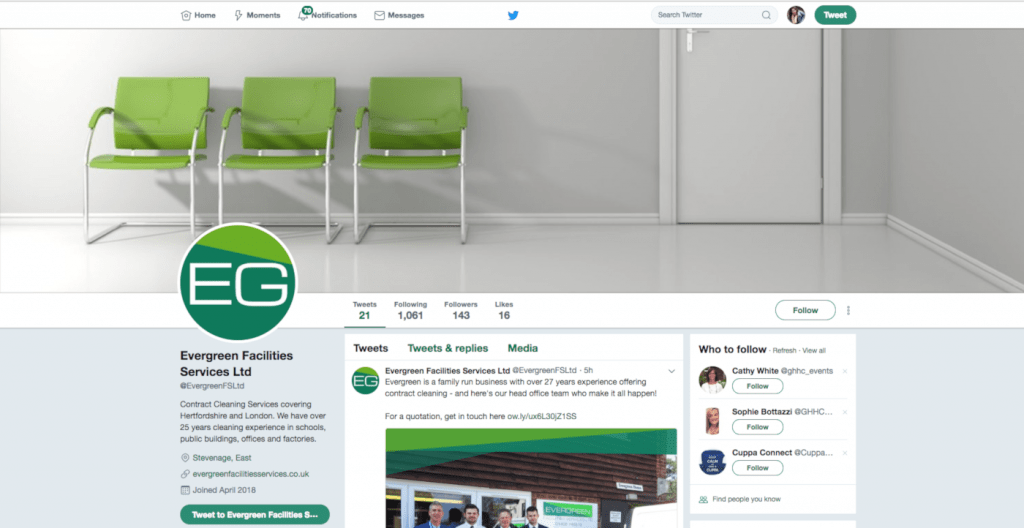 Another option would be to create your own custom cover photo using Canva or by hiring a graphic designer on an affordable freelancer website like fiverr.com.
Here are some great examples from Flawless Janitors in Tampa, FL (awesome Swept customers!) and King Kleen in Kingston, ON, who have both found ways to brand their cover photos: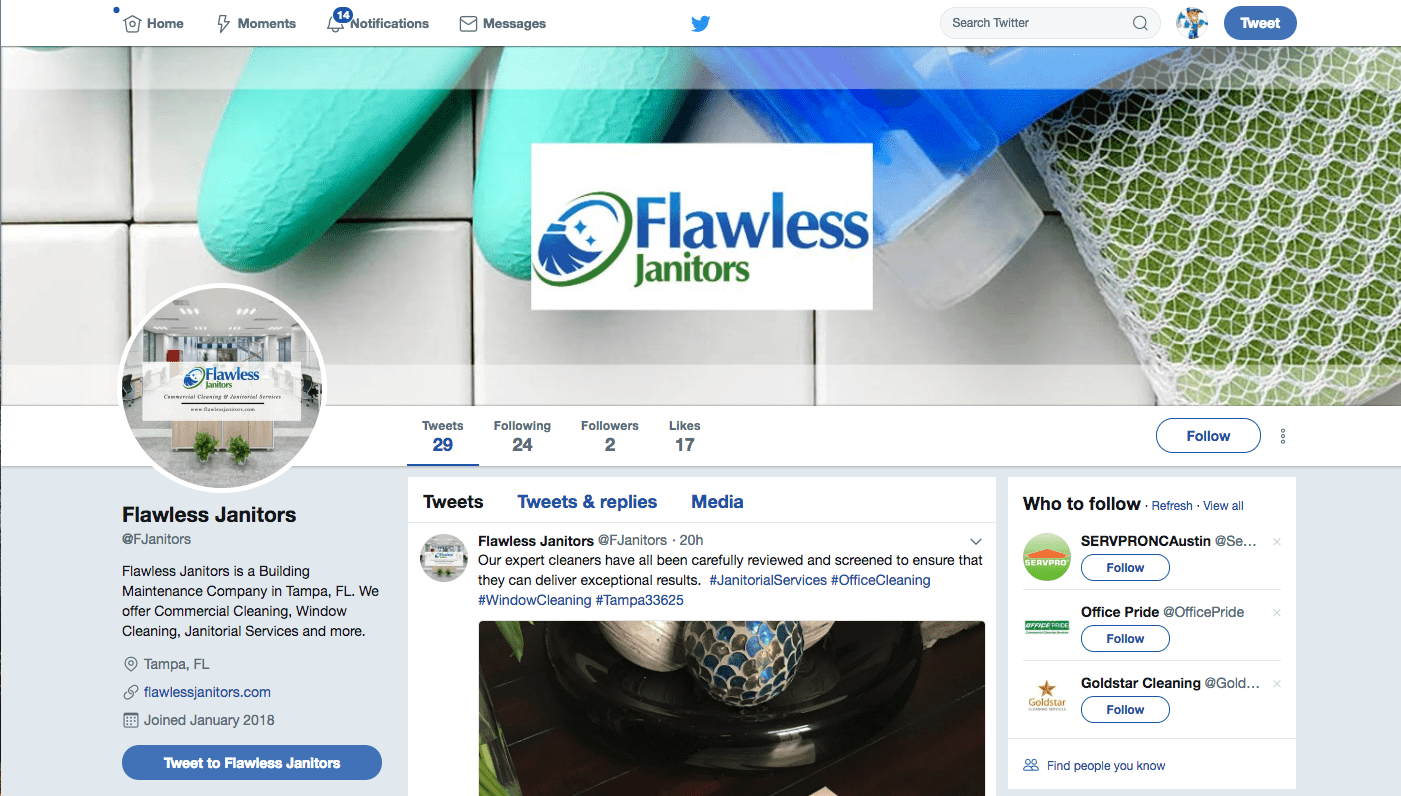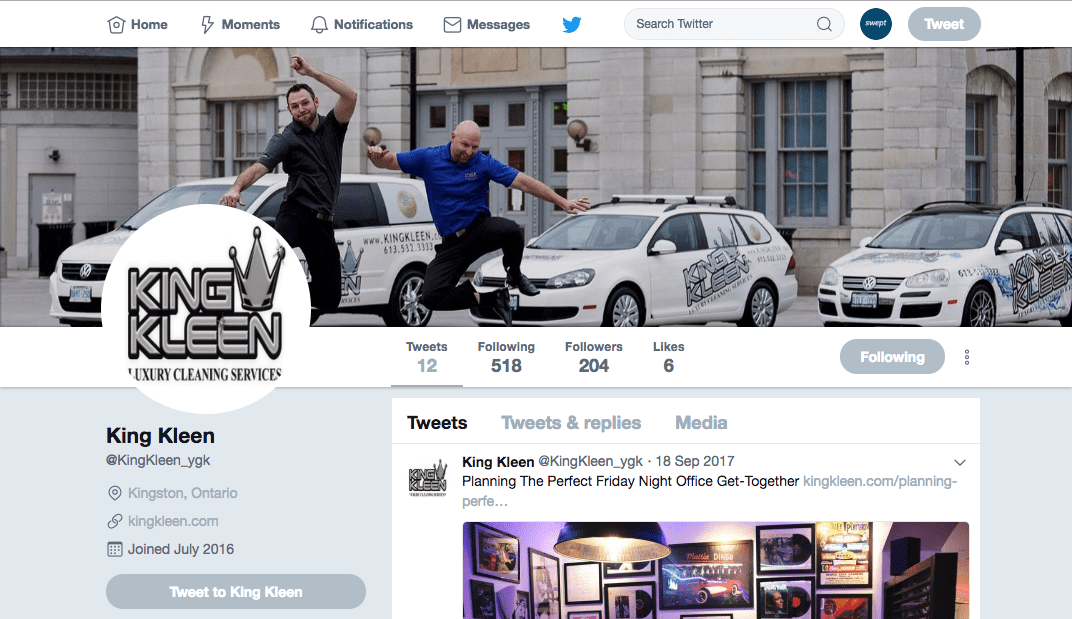 3. Not Using Infographics
While we are on the topic of using imagery. Were you aware that a good Infographic can increase web traffic by 12%? Or that posts that include images receive 650% higher engagement than text-only posts? So, if you want to convey a complicated idea, you can easily waste a lot of time writing a boring long-form article. OR, you can present a beautiful infographic in a fraction of the time that is going to give you a lot more success!
No idea how to make an infographic? We've got you covered, here's a free infographic template to get you started (just delete our logo). The best part? This infographic template is also a guide to successful infographics. How meta is that? And helpful too. You're engagement numbers will thank us later!
Pro tip: You can craft beautiful (and free) infographics using Canva!

4. Bad Spelling / Grammar
This may go without saying, but bad spelling and grammar is very unprofessional! Yes, social media tends to be a more casual environment for connecting than say, email or phone, but careless posting can still leave potential customers with a bad first impression.
To succeed in the janitorial industry, attention to detail is a must — and this goes for every aspect of the business. The way you represent your brand online should reflect the thorough, professional manner in which you deliver cleaning services.
Here are some general rules for engaging and professional sounding posts on social media:
Spell out words in full as often as possible, especially on Facebook, LinkedIn and Instagram. For example, write out "you" and "are" rather than using single letters "u" and "r". (Shortening words IS, however, common on Twitter, for instance, "business" could become "biz.")
Read over each post to check for spelling and typos. Read it out loud to ensure the grammar sounds correct.
Using emojis is expected on social media, so don't shy away from them in order to sound professional — they can help a post grab attention and feel more fun and engaging.
Avoid posting / sharing anything that could be seen as controversial on your business profiles (ie. your political opinions!)
Never share anything with crude or offensive humour — keep your posts lighthearted, positive and friendly.
If ever you receive negative comments, complaints or feedback on social media, be sure to respond diplomatically.
Some final thoughts…
Sometimes it can be difficult to assess our own work, so asking a social media savvy friend or fellow entrepreneur for feedback on your social media profiles (or your website / other marketing materials) can help you find areas to improve that you wouldn't otherwise have thought about.
We also recommend finding your competitors on social media and making note of the types of things they are posting and sharing. This can help you ensure your profiles stand out in comparison.
Finally, be sure to follow other brands (janitorial or otherwise) who have an engaged and growing social media following. Pay attention to what they post, how often, the way they interact with followers, and the general feeling or "tone" of their brand on social. Let these accounts serve as inspiration for your own!
It might not seem that important to spend time choosing the perfect header photo or filling out each section of your profile, but a little extra time can go a long way towards making your business look professional online.
Original article by Sarah Bustin, 2019 updates by Adrian Comeau.