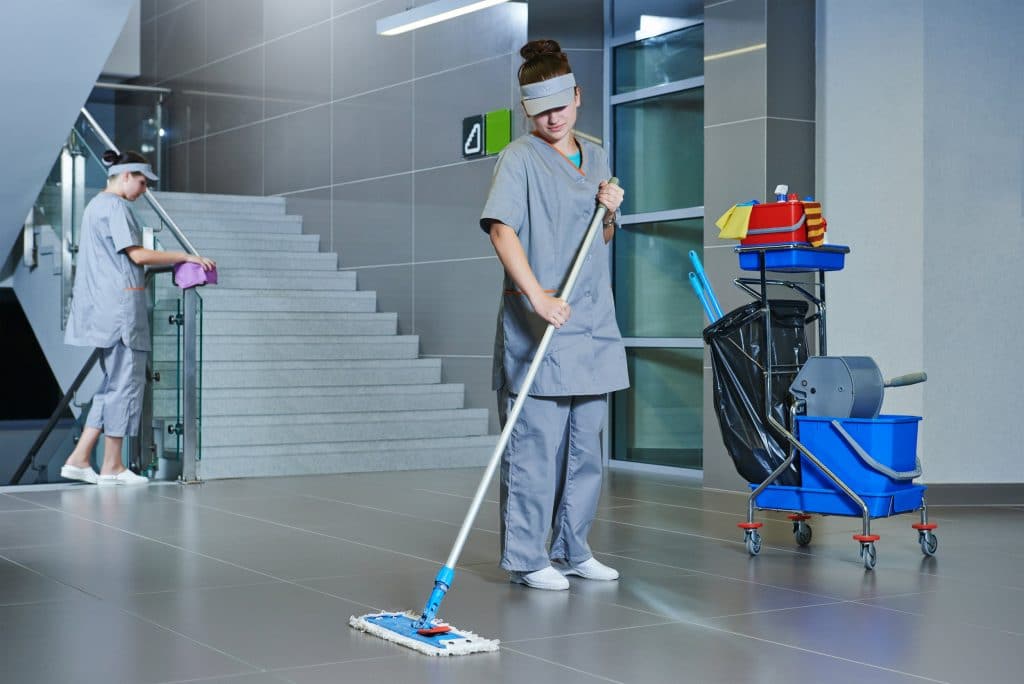 Turnover happens.
Every business that relies on staff to deliver their service or product understands the vast amount of time, energy and money wasted when a member of your team leaves.
Turnover is specifically costly in the janitorial Industry.
Olon Hyde, Director of Operations at Office Pride, estimates that losing a cleaner costs his franchisees approximately $2,000, all costs considered — advertising, screening, interviewing, training, etc. — based on a $10/hr wage and 20 hours per week.
$2,000 lost on ONE cleaner!
With the industry average at 75% and reports as high as 375% per year, losing and replacing so many staff can become a full time job for someone on your management team.
So what can your business do about it? Here are 5 ideas to help your company tackle cleaner turnover.
#1 Find the Right Match for the Job
In many cases, a new contract can be both a blessing and a curse.
You may not always have someone from your existing staff that is looking for more hours. Often existing staff can fill in for the short term, but finding the right long-term match for a position has a lot to do with how well the position fits their needs.
For example, you may have a number of people that are willing to take an evening shift, but the best match is someone that is looking to work at the same time and in the same place as that position.
#2 Offer a Great Training Program
Investing in a training program for your company is important because it tells both customers and cleaners that quality is a priority.
A great training program has accomplished 2 things:
1. It ensures your cleaners understand what is expected of them
2. It ensures your cleaners understand what opportunities there are for advancement in your company
Not sure where to start? The Janitorial Store has a great library of resources available to get your training program off the ground or to improve your existing programs.
#3 Provide Clear Instructions (Even When You're Not There)
Even when a cleaner has been employed with you for a while and has been through your training program, they don't necessarily always know what is expected of them.
This is especially the case when you win a new contract or when they are filling in for another staff member. Great cleaners want to do a good job, so it can be stressful when clear direction isn't provided.
Of course, running a cleaning business means you're juggling many responsibilities, and it's not always possible to provide guidance on site. In this case, providing written cleaning instructions can go a long way.
How to do it: If you're looking for a tool that will allow you to provide and update instructions without physically being on site, check out Swept's cleaning instructions feature.
Our translation feature also removes any language barriers you may face when a cleaner's first language isn't the same as your own.
Cleaners will appreciate the clarity, feel more supported, and it can also help lighten the load on your management team.
#4 Recognize and Communicate Success
When staff work remotely, it's easy to feel disconnected. It's also easy for managers to overlook the effort that goes into doing a great job.
When doing inspections, make sure that cleaners know not just when something has gone wrong but also when things are done right.
It's important to recognize the small things that easily go unnoticed. Asking great questions, reporting problems proactively, and consistently showing up for shifts on time are all great examples of behavior that should be recognized.
Going one step further, many companies have successfully implemented an employee recognition program. This allows the praise and encouragement to be heard and seen by others in your company.
For some teams, employee recognition programs involve recording both positive and negative interactions with the cleaners and managers to help build a cleaner scorecard. This scorecard can then be used to see who is doing well and who needs additional training or supervision.
#5 Perform Exit Interviews
When staff do leave, an exit interview is a great tool to learn more about what is at the root cause of the turnover.
In some cases, cleaners leave for positive reasons. But when they are leaving because they are not happy, leaving these issues unaddressed will ultimately lead to a deeper more serious problem for your team.
Our recommendation is to have someone in the management team that the cleaner did not report to conduct the interview. This allows the responses to be more honest and candid.
The Bottom Line
Turnover in the Janitorial industry is not only expensive, but sometimes an elusive issue to address.
Clearly communicating expectations, supporting your cleaners in any way you can, and spending time looking for the root cause will not only help with your bottom line, but also make your team more engaged.
Have questions or suggestions about reducing cleaner turnover? We'd love to hear from you!