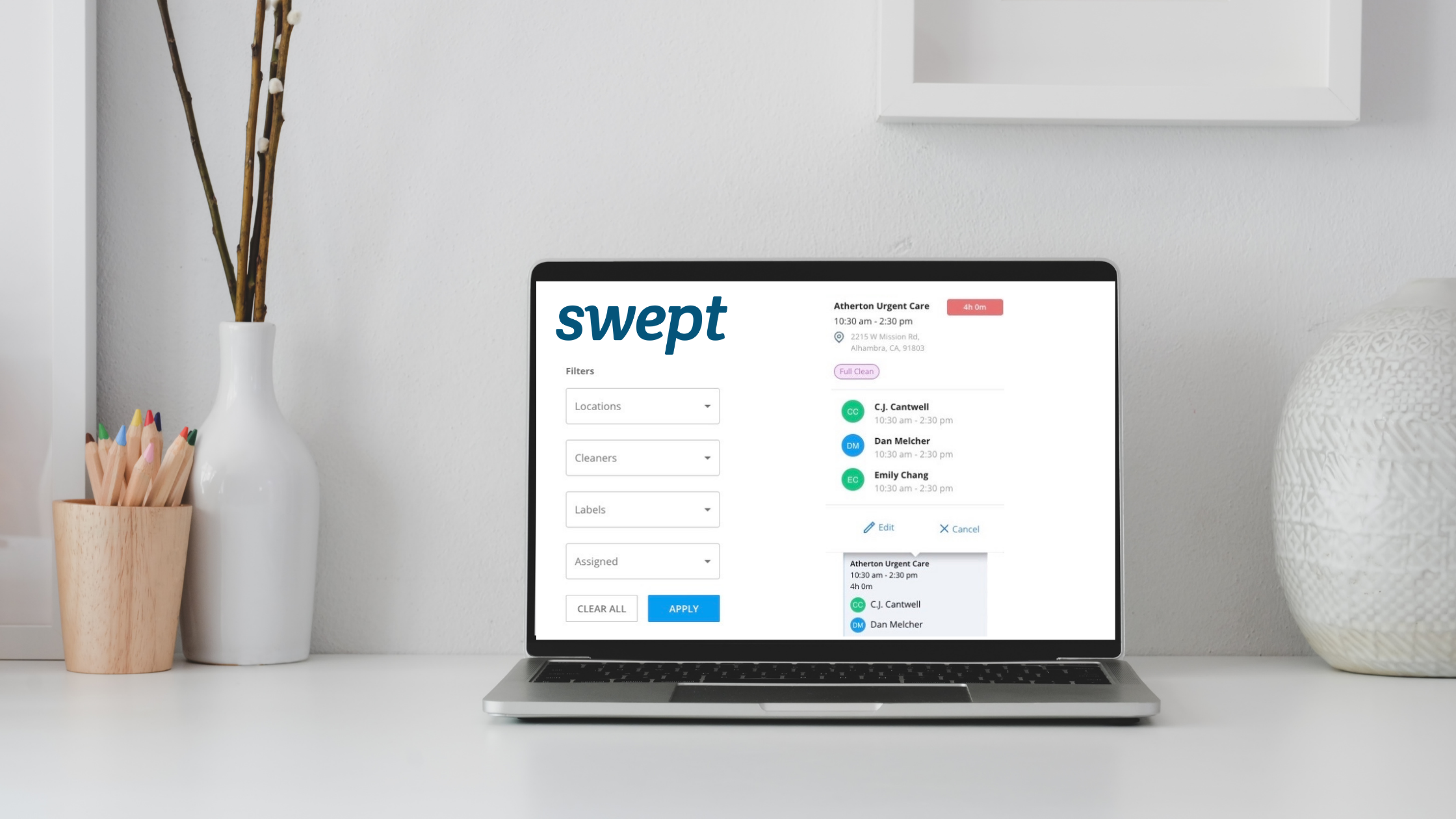 At Swept, we are always looking to improve our product based on feedback from our customers. So we're excited to be able to deliver new enhancements to Swept's calendar in the Web app. You may have noticed when logging into the Web app this morning that you were greeted with a more intuitive and clean-cut design on the calendar page. This is just the start of what we delivered today!
Enhanced search & filtering options
At the top of the page, you will now see that there is a search bar, which you can use to search by Cleaner or Location name.
Did you see the green "Upcoming Shift" button to the right? You can now create a new shift simply by clicking this button!
And with your new and improved filter options, you can filter by assigned and unassigned shifts. Never let a shift get missed again!
Shift type & colour coding for staff to better 'at a glance' visibility
To give you better information at a glance, you can now see the type of shift on the calendar. This is just another step leading up to one of our most exciting, anticipated launches coming soon - work orders!
And did you notice the green and blue colors? For clarity, cleaners will now be coloured green and supervisors will be coloured blue.
We are delighted that a lot of our customers have grown past 100 Locations. Instead of being presented with a calendar view incorporating all shifts for the week, customers that have more than 100 locations will now be prompted to filter which locations they want to see, so they have a clearer view.
To see and make the most of these enhancements, you will need to ensure your Web app version of Swept is up to date. Please do a hard refresh of your desktop:
For Windows: Press Ctrl+F5

For Mac: Press Shift+Command+R.
If you have any questions, please check out our support center. Alternatively, you can email support@sweptworks.com or reach out directly to your Customer Success Manager who will be happy to help!