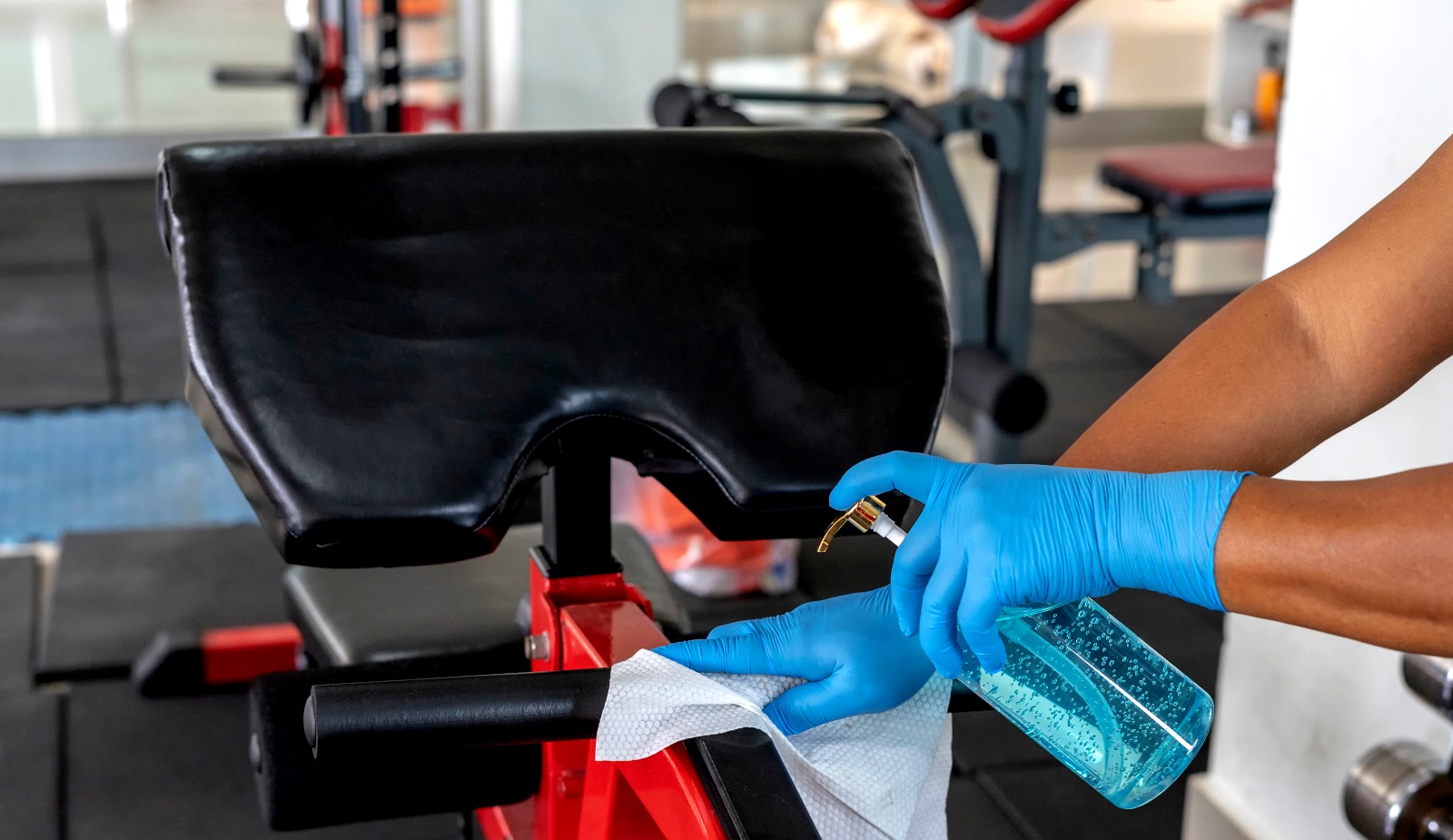 In the coming days and weeks…
many states and provinces across the USA and Canada are allowing businesses to once again open their doors to the public. Of course in-spite of these openings, the general public seems to be wary of venturing out into the world in any significant way. And who could blame them? After all the chaos and sickness we have been visually exposed to (in the worst cases exposed to) have made us fearful of simply returning to the way we lived before.
So what is the solution? We're glad you asked! In simple terms the key to getting people outside is to make them feel safe. And the best way to make them feel safe, is to actually make them safe. Of course, this is where the janitorial industry becomes the most important element in getting the world back to normal again. No pressure to all you commercial cleaning company owners out there 😉
With all this in mind, Swept set out to speak to the kind of clients that would be in need of deep-cleaning and disinfecting services the most.
Namely, Restaurants, Healthcare facilities, and Fitness centers. All places where people are required to interact with others in fair numbers.
Obviously no two industries require the same formula for creating a safe environment, so we'll be dedicating a blog to each of these sectors in hopes of equipping janitorial company owners with the most relevant information possible. Our goal is to help with the difficult task of being bona-fide heroes as the world re-opens.
First up, fitness!
How many people reading this right now have (much to your own dismay) packed on a few pounds due to a lack of being able to go and work out at the gym for the last several months?
Yeah…us too. Sure you can run, or work out at home, but for many that can be a very difficult task and for others, downright impossible. So what are fitness centers doing to prepare for a socially distanced, and safety focused re-opening? And what can janitorial companies do to be prepared to service them the best? Let's explore: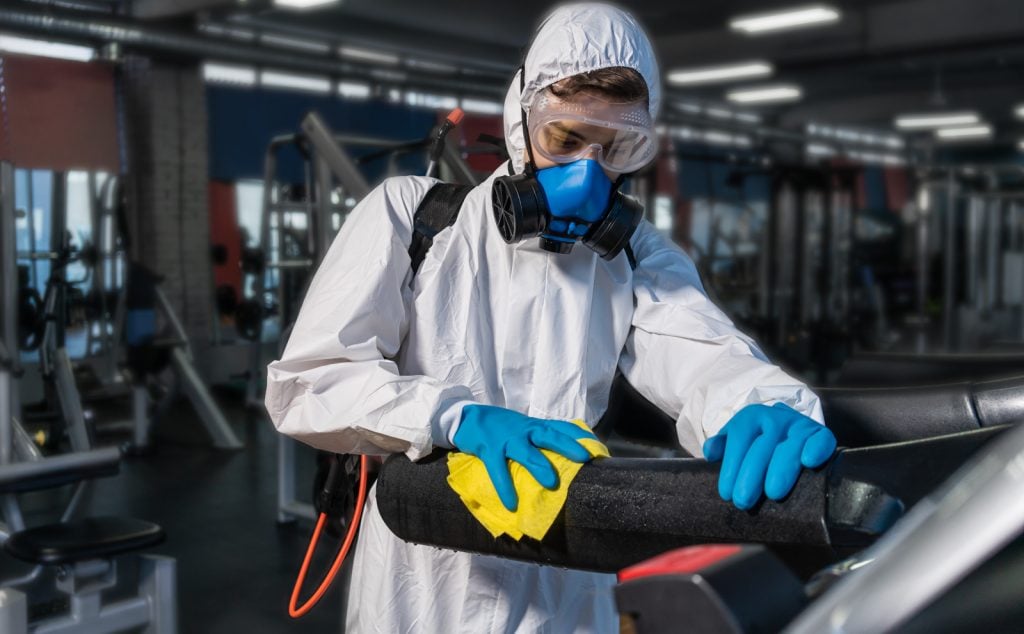 6 Feet Will Stay the Norm
Obviously the 6 foot social distance rule won't be ending any time soon. And so many fitness centers will be losing out on a LOT of space as the exercise equipment that used to only have inches (or less) between them. More space between equipment means less equipment, which will in turn mean less people using the gym at any one time.
Limited Numbers
Gym goers will probably get to enjoy reduced membership fees as gyms will have to start limiting the number of people who can access them at one time. And those Yoga classes that you used to go to with forty people or more? Now will be reduced to only a fraction of that.
Humans sweat, An Unavoidable Fact
Once upon a time fitness centers used the honor system to be sure that people who used equipment would sterilize it after use, sadly honor won't cut it to instill trust in health conscious patrons. This equipment will need to be properly sterilized by gym staff after EVERY use. The upside, there will probably be daily deep-clean orders for janitorial companies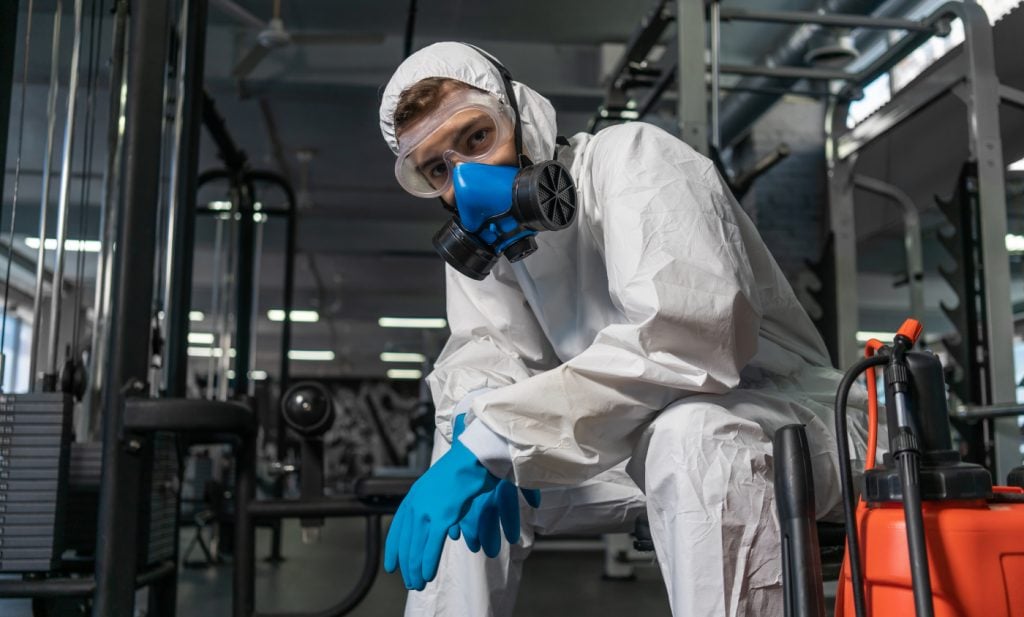 15 more steps that fitness centers are taking to provide a safer environment, and janitorial companies need to be aware of.
1. Control Access
Gyms and fitness centres should only be open when at least one staff member is present. If patrons have uncontrolled access, then it may not be possible to ensure physical distancing rules are followed or that disinfection of equipment is being performed after each use. 24-hour unrestricted access without staff present on site should be suspended (if a gym or fitness centre offers this service).
2. Limit Occupancy
The number of patrons allowed into the facility at any one time should be limited to: a) Ensuring there's sufficient space to allow patrons to remain two metres from one another, b) Preventing large gatherings, and c) Allowing staff sufficient time to clean and disinfect equipment and other surfaces frequently. Consider using a booking system that allows a limited number of patrons to book and attend a specified time slot. Ensure there is sufficient time between time slots to allow for cleaning and disinfection of the facility and equipment and to reduce crowding (e.g. at check-in counter).
3. Post Signs
Place signs at entrances to notify patrons that they should not enter if they have symptoms of COVID-19. Post signs throughout the facility to make patrons aware of the physical distancing requirements, enhanced sanitation procedures (including reminders for members to wipe equipment before and after each use), and any other instructions and limitations, as applicable. Some links to example signs to use: These guidelines are current at the time of writing but may be revised or rescinded at any time. Orders and recommendations issued by the Provincial Health Officer supersede these guidelines –
Specifically; New by-laws in many provinces and states will indicate something akin to the Mass Gatherings Order remains in place and prohibits 50 or more people to be present, for any event.
4. Screen Arriving Patrons
Ask patrons the following question when they arrive:
Do you have any of the following symptoms: coughing, fever, sore throat or difficulty breathing?
Any patron who answers yes to the question above should not be permitted to enter. Anyone who has the symptoms of COVID-19 is recommended to call go straight home, and consult the self assessment app BC COVID 19, or contact 8-1-1 for further guidance related to testing and self isolation. If a patron is severely sick (e.g. difficulty breathing, chest pain etc.), call 9-1-1
5. Manage Customer Entry Points
Place markers such as tape or cones every two metres at entrances to provide patrons with visible queues that encourage physical distancing. Cleaners need to take extra diligence with disinfecting these high traffic touch points.
6. Hands Free
Whenever possible, use contactless forms of payment and check-in. Janitorial companies need to take note of contact points in order to focus where to concentrate disinfecting efforts. This isn't limited to cash registers, doors, and equipment are obviously a large focus too.
7. Don't Forget to Fill Those Dispensers
Provide hand sanitizer stations or hand-washing stations for patrons and encourage their use.
8. Use Appropriate Disinfectant.
Gyms and fitness centres must verify that the disinfectant(s) they use are effective against SARS-CoV-2 (the virus that causes COVID-19). To do this, either:
a) Use the list on the CDC (Center for Disease Control) or Health Canada's website to identify if a disinfectant has been reviewed and confirmed to be effective against SARS-CoV-2.
b) Use the list on the EPA's website to identify if a disinfectant has been reviewed and confirmed to be effective.
c) Contact the disinfectant supplier or manufacturer to identify if the disinfectant has been confirmed to be effective and, follow the manufacturer instructions for disinfection including contact times. If you'd like to know more about finding the right supplies and suppliers, Swept has some detailed content around just that topic!
d) Make a 500 parts per million chlorine disinfectant solution using bleach and water. To make a solution of this concentration: mix 1 part bleach to 100 parts water (e.g. mix 10 ml bleach (5.25%) with 990 ml water). When the solution is applied do not wipe it off, instead, allow it to air dry.
9. Don't expect BYO (bring your own)
Provide patrons with either disinfectant wipes or disinfectant in a spray bottle and paper towels for disinfecting equipment and surfaces certified COVID-19 Disinfectants for patrons should be conveniently located. Patrons should be required to wipe down the equipment before and after use. Discontinue use of re-usable towels and cloths.
10. Keep Locker Rooms Cleaned and Limited
Limit locker room use and avoid use if possible Encourage patrons to arrive at the gym or fitness centre in workout clothes and to avoid using locker rooms on site. When locker rooms are used, a disinfectant spray or wipes should be available for patrons to disinfect locker contact surfaces before and after use. Site plan must include enhanced cleaning and disinfection for locker rooms and bathroom facilities.
We hope you've found this to be a useful guide.
f you want to know even more about supplies, best practices, or how other cleaning companies are dealing with things like active COVID cases, feel free to check out our recent webinar, blog, or even treat yourself to a free webinar, or two!
The above list has been adapted specifically for janitorial companies from Interior Health Canada's COVID-19 Guidance for Gyms and Fitness Centres
It is a time where it may be difficult to separate fact from fiction, but we all need to be dedicated, diligent, and believe that things will be changing in a positive direction soon.
In reaction to the global issue, the expected levels of sanitation have been raised across the board for years to come. The best move is to put long-term plans into place to make these practices your "new normal". Again, the Swept team will be here throughout this journey to support you. We have your back!
Swept is dedicated to highlighting stories that keep everyone in the janitorial industry as up to date on world events and in-the-know as possible. Having started as a commercial cleaning company ourselves, our hearts go well beyond the janitorial software we offer. Learn more about Swept's cleaning company software here. And to keep up on all the trends in the janitorial services industry, subscribe to our blog!
Want more specific bidding post-COVID knowledge?
We've got several blog post and webinars on the topic for you right here!
Of course, we know this is just scratching the surface of the know-how you'll have to equip yourself within the coming months, but we hope this will push your learning in all the right directions.
Stay safe out there.
Your friends at Swept.