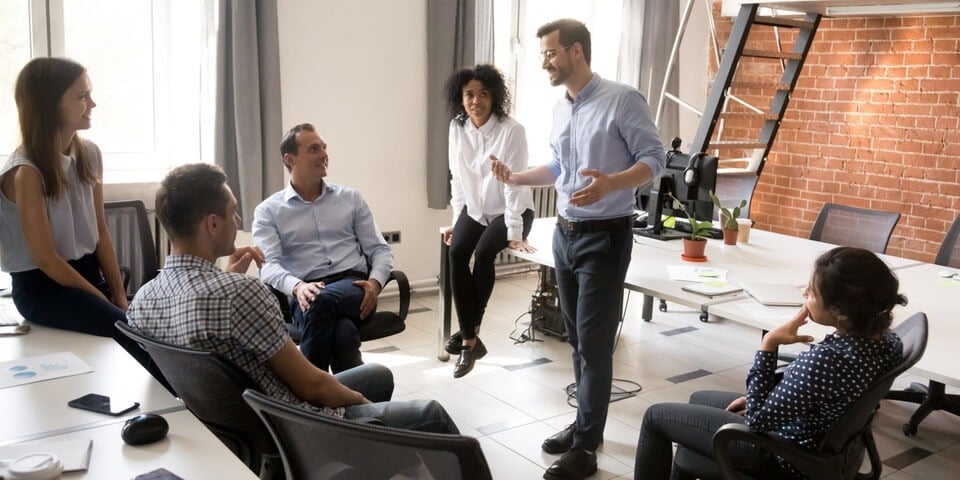 Inadequate communication can lead to aches and pains for businesses, as well as lost opportunities. It can also kill potential business deals or result in a less-than-stellar customer experience and poor reviews, which may prevent your business from achieving its full potential.
Failing to create an effective channel to streamline and communicate with employees can lead to poor customer experiences, supply chain problems, and stagnated growth. Businesses lose $37 billion annually because of poor communication.
Communication and growth in janitorial cleaning require utilizing the proper tools and software to ensure that your customers have an optimal experience. Scheduling services for clients can be difficult if the process is not streamlined. For example, using software can cut down the time your company spends setting up appointments and services for clients, which reduces lost work hours and improves customer service.
Another reason communication and growth in janitorial cleaning can be improved by using software is that staff becomes more informed about daily tasks and operations. While oral communication is an effective method to distribute information, digital tools can allow employees to access guides for specific clients, which can prevent unhappy customers. If a client has a unique request, janitorial cleaning software suites can customize work orders that employees can access while on-site.
One major complication that janitorial companies face is tracking employee hours. Since work sites can vary throughout the week, a good time-tracking software should have features such as geo-location to validate when workers arrive and complete their assignment.
Improving communication means positioning your company to succeed. Below are three ways that communication helps grow your janitorial business.
Improves efficiency
Ensuring that customers have a positive experience means managing employee schedules and hours effectively. When you set a work schedule, employees should be able to access that schedule even off-site. Scheduling software is an excellent way to improve communication and growth in janitorial cleaning. Changes can be done remotely, and employees can request specific shifts or days off. This limits the chances of poor communication causing unexpected staff shortages. Scheduling software also lets employees access their schedules at home, which mitigates mistakes such as employees forgetting what time their shift starts.
Another way that janitorial scheduling software improves communication and growth in janitorial companies is by reducing lost hours. Tardy or absent employees can prevent a job from getting done on time, which can damage your company's reputation and profits.
Using scheduling software is a cost-effective way to streamline operations, which increases productivity, reduces time spent crafting schedules, and decreases mistakes.
Provides a Better Customer Experience
Few things can ruin a business relationship like poor customer experiences. Workers showing up at the wrong site or arriving late can prevent your company from honoring quotes, which can cause customers to obtain services from a competitor.
Customization improves customer experience, and utilizing software to communicate these requests directly to workers can increase customer satisfaction. The software should also have multilingual instructions that prevent miscommunications and reduce workplace errors.
If a problem arises at a work site, communication features allow workers to message supervisors and managers to clarify questions or resolve unexpected issues without requiring in-person interactions. This can save time because managers do not have to leave the office or travel to sites to address work-site problems.
Allows Scaling
Coordinating services with multiple clients can be challenging, especially if your company experiences sudden growth. While an expanding customer base demonstrates that your business is succeeding and your services have significant demand, scaling can be debilitating if done improperly. If your janitorial company experiences unforeseen demand, it can make scheduling complicated.
When you are working at multiple sites or have several business locations, communication and growth in janitorial cleaning are best optimized by using software to cut down on the time you spend managing work requests. Making sure that employees at each work site are fully supported can become difficult if you are relying on oral communication or in-person supervision. Software allows employees to review work orders and directions remotely, decreasing mistakes and errors.
Janitorial cleaning software enables you to manage multiple projects and sites in one location. Managers can oversee operations on a smartphone or computer, so concerns can be addressed quickly. Written messages let employees review guidelines without contacting management, which reduces the time that staff spends on-site.
Features such as sending pictures and videos empower companies to ensure that quality control standards are being met and that all customers are receiving the same standard of services. Software can also make it easier to identify ineffective employees, so management can address performance issues quickly and effectively.
Janitorial scheduling and janitorial cleaning software can improve communication, productivity, and customer relations. It does not require high-end computer skills and is a cost-effective solution to meet scaling, performance, and quality control standards while optimizing workplace efficiency. Software can cut operating expenses by reducing the hours spent scheduling jobs and employees, which allows more time to be spent on growing your janitorial company.
Swept's janitorial software helps janitorial company owners build trust with clients and get ahead of the competition by giving them the tools they need to spend more time managing their business and less time working in it.
To see how Swept can help your janitorial company grow, schedule a free demonstration with one of our experts today!