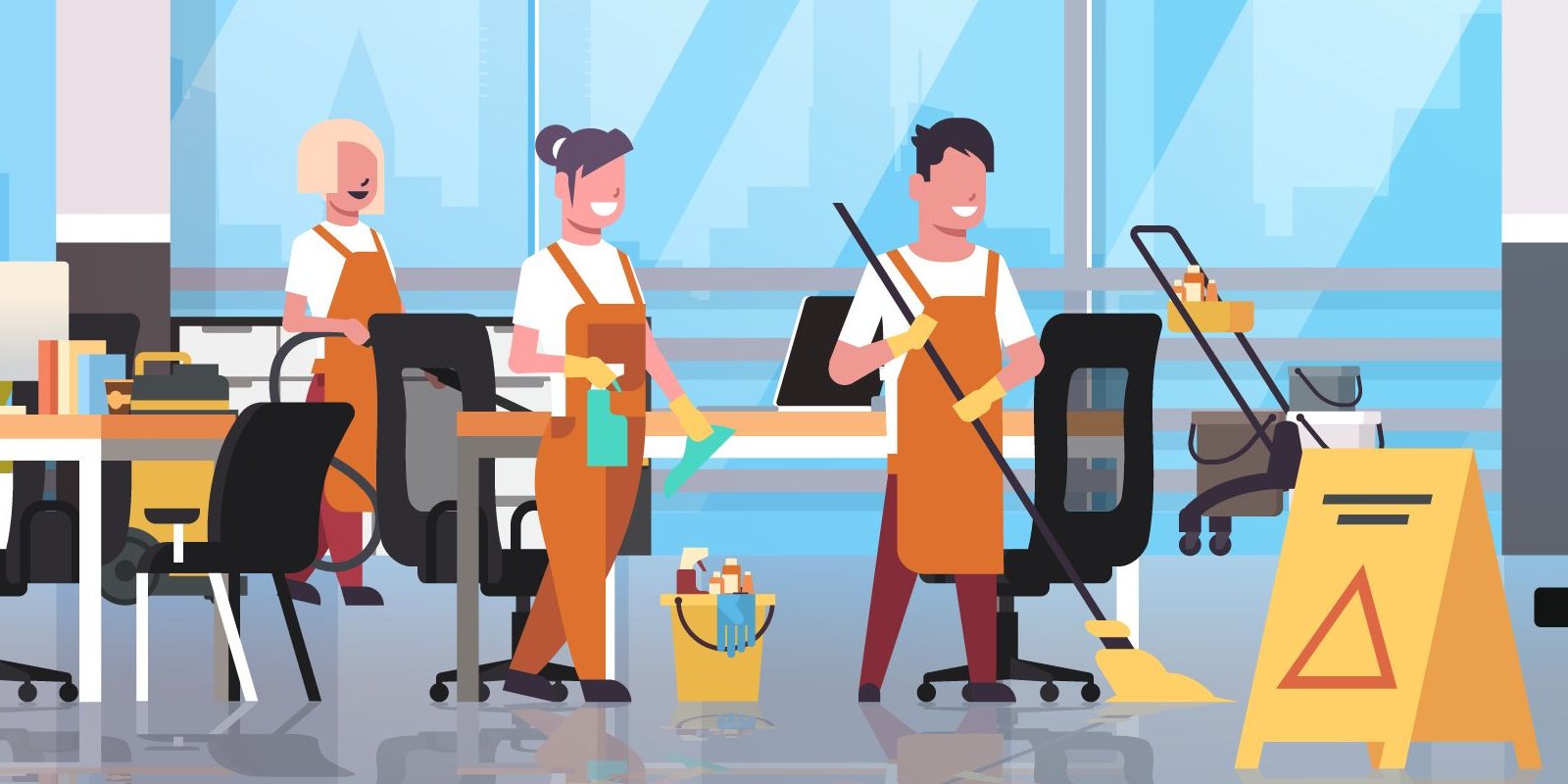 In a competitive industry like commercial cleaning, figuring out how to get contracts can be one of the biggest challenges when you want to scale your business.
You find an opportunity, but what's next?
How do you do a walkthrough?
Have you considered the impact on your cash flow?
How do you price?
This guide has been created to support you in your journey from finding contracts to bidding on them.
Where to find commercial cleaning contracts
To win any commercial cleaning contract, you have to stay informed—not just about the industry, but about the market you're trying to reach. Here are some top tips on where you can start finding commercial cleaning contracts, today!
Make sure you know who your target market is
You probably already know who your target audience is from a marketing standpoint, so start there. Your target market is a broader group of all the people who you think will be interested in your service. You can start by asking yourself the following questions:
What needs does your service fulfill?
What value do you provide?
What market are you servicing (residential, commercial, both?)
Not every business will be the right fit for your janitorial company, and that's okay. If you specialize in a particular type of cleaning service, make sure the businesses that need that kind of service know about you.
Be proactive and search for jobs online
Take advantage of websites that pull together lists of open opportunities for businesses, such as merx.com, or join an online neighborhood like Nextdoor where you can connect with people, businesses, and public services in your area.
Network as much as possible
The more people who know about you, the more business you'll get.
Winning commercial cleaning contracts is often about building a strong network of connections in your community. Potential clients are everywhere; you never know when a friend of a friend will be looking for a janitorial service just like yours.
What's more, networking opens the door to collaborative opportunities with other commercial cleaning companies. Somewhere down the line, there might be an opportunity to team up or help each other out.
Swept & Route recently held their second annual Cleaning & Cocktails conference - a two-day event that brought together like-minded commercial cleaning business owners. It was great to see attendees using the conference as an opportunity to build relationships. We saw companies discuss their biggest challenges and successes, swapping best practices, and giving advice on how to thrive and be profitable in today's economy. For me personally, I was surprised to see just how much people wanted to help each other succeed in this industry!
Get referrals from your current customers
There's nothing quite as powerful as word-of-mouth advertising, and online reviews are just as valuable. In fact, as many as 93% of consumers say online reviews affect their purchasing decisions! Marcus LaPointe, Area Manager at GSF-USA finds that "contracts are best found through referrals. Those are the ones I have the highest closing rates on with the least amount of work."
Encourage your clients to leave reviews on review sites and search engines like Google to lend credibility to your business and boost your reputation for providing excellent service. People are reading them!
Michael Brown, Swept CEO, suggests "writing a list of every single person you know (friends, family, neighbors, social groups all the way back from high school. Call them and ask for help. People love to help, especially when it takes very little of their time! You will find many warm leads through those referrals and that will help get things moving".
Join a professional trade association
The benefits of belonging to a trade organization such as the Worldwide Cleaning Industry Association (ISSA) or International Janitorial Cleaning Services Association (IJCSA) go beyond just connecting you to other professionals in your industry.
Joining these types of groups also keeps you up-to-date with industry trends so you can keep current with best practices and serve your customers better. Plus, it's another networking opportunity that could lead to job opportunities.
Advertise your commercial cleaning business
Businesses in every industry fall into the trap of believing that simply having a website and a social media presence is enough, but no one is going to stumble across your business online by accident.
When you consider your own online research habits, it should come as no surprise that more than 95% of internet users search online to find a local business, and 62% of consumers will disregard a business they can't find online.
A great place to advertise and improve your search rank is with Yelp and Google My Business.
Both websites give you the opportunity to list your business for free, however, there are also paid packages available that can help you in setting yourself apart from your competition.
You can also look into SEO for services that you offer, like window cleaning or commercial carpet cleaning. SEO is good for small businesses, especially if your business depends on potential customers finding you online. Optimizing your website for search engines is one of the most cost-effective ways of increasing your visibility to prospective customers who are already searching online for the services or products your small business offers. Don't have the time to do the SEO yourself? Here are the best SEO services for small businesses in 2022.
Look for facilities whose contracts are up for renewal
A good place to look for opportunities can be public facilities. "We usually look up the public records and hunt which ones are coming up for renewals. Once you see the list you can pick and choose which ones you might want to bid on when it comes open. It is a great way to plan ahead for some work, but it is highly competitive. Plus, the work involved in getting the right price is high due to the competitive nature of the business." - Marcus LaPoint, Area Manager, GSF-USA.
How to do a commercial cleaning walk-through
You've found a contract that you are interested in, and you're going to do a walk-through to understand the 'ask. This part of the process is just as important as the price that you set later on. This is your opportunity to pitch to the client how you can solve their problem, and gives you the chance to show how and why you are better than the competition. Here are our top tips and considerations for when you do a walkthrough at a location.
Complete a Risk Assessment
You will need to know how to do site-specific risk assessments in order to decide the frequency of cleaning that's needed. Factors like which areas are used by employees, how often, and for how long will help to assess whether cleaning and disinfecting is needed once per shift, or hourly, for example. Tell the client how much time you will spend on what tasks, with what supplies and at what frequency. This will go a long way in building trust! Need more information on risk assessments? The ISSA has developed a thorough tip sheet here!
Customize Your Approach
Capture the attention of potential new clients by getting to know what the new cleaning protocols look like for each industry and outline these specific efforts in your sales pitch. Address their pain points right away and let them know you understand their challenges. Then outline how you have solutions. Have honest conversations with your clients about keeping both your cleaners safe and their employees safe—into the foreseeable future.
Marcus LaPoint likes to refer often to a book titled Thank You For Arguing, by Jay Heinrichs. "A technique that has helped me in many pitches is using the future tense in conversations. And enjoy the silence, I try to make sure after the other person has talked, I try to count to five in my head to give the room some room to breathe. I feel it gives everybody a chance to not be so reactive in the conversation. The main point is to make the person either feel comfortable or make them want to act."
Use software like Route
To simplify the entire process, we recommend using software like Route. Instead of touring the space, taking notes, and then coming back to the client after you've manually calculated an estimate, Route lets you collect and organize the scope of any job in real-time while you're touring the location.
Don't forget that you are the expert!
Michael Brown, Swept CEO, understands from experience that "It can be scary in the early days - there is a lot of pressure to win the contract and you may even tell yourself that you are not "good at sales". However, 99% of the time, you know more about cleaning - and you 100% care more about it! - than your client - so unlock the confidence and you will win way more than you will lose".
6 Questions to ask yourself before you bid on a commercial cleaning contract
You've done your walkthrough, and you have all the details of the space in the palm of your hand… but are you ready to bid? To ensure you have all the information you need, we have compiled 6 questions to ask yourself before bidding.
1. Are you familiar with your competitors' pitches?
In other words, do you know what other companies in your area are talking about when selling their services? If you aren't aware of who your competitors are, and exactly what they offer before entering into the bidding process, you are putting yourself at a severe disadvantage. Here are a few actions you can take to get yourself in the know, so you can offer everything they do, except better:
Compile a list of your competition, and pay a visit to their online presence in order to get a feel for who they are.
Aside from knowing what they offer, see if you can't figure out what they don't offer, this may just be the key to why a potential client is going to choose you over them.

If you are able to, identify your competitors sticking points. Do they have a poor online presence? Are they understaffed or underfunded? This should help you see where you may have some valuable differentiators.
2. Are you able to easily show clients how you're different?
Now that you've done competitive research, you can work on positioning yourself against your competitors when you bid for new business. Take a look back at your own S.W.O.T. Analysis and think about the things that make your company stand out.
Marcus LaPoint comments " I am a follower of Micheal Porter and his 3 Generic Strategy approach – cost leadership, differentiation, and focus. The market is too competitive for "cost leadership" to have any real value. The industry over the last 50 years have driven down profits and quality too far. I prefer the "differentiation" approach, as this lets quality shine through."
If your company has a competitive advantage, like using a cleaner app like Swept, show them how this tool allows you to communicate with your team and your clients, know when they were onsite, and track the time it took to clean their space. Continue to differentiate your company from the competitors by asking questions about how the competition could address pain points and challenges without that kind of technology on hand.
3. Do you know how you will calculate quotes for large contracts?
Before you quote on a large contract, you should have confidence in your supply and labor costs, overhead, profit margin, etc. Otherwise, you'll risk overcharging and losing the bid, or undercharging and getting stuck with a contract that is going to lose you money.
Swept's Bidding Calculator will help you map out expenses, calculate the frequency of times/week and even accurately quote labor time. Start by breaking it down into individual aspects of your business, and consider the following factors before you throw your hat in the ring for a bigger-than-usual contract:
Once you're familiar and comfortable with these numbers, you can more accurately calculate a quote for your cleaning company to bid on a big new contract. Knowing these numbers will ensure you'll make money from the contract. Need a bit more detail? We elaborate on this later on in this guide.
4. Do you have the cleaning staff lined up to service a large contract?
It probably feels like a chicken-and-egg problem: you can't hire cleaners unless you win the contract. But if you win the contract and don't have any cleaners…well, that's an issue too.
We recommend starting the hiring process before you seal the deal on a new job so that you're not scrambling when the time comes to service the new contracted site. If you can't actually start doing the job you were hired to do when you are hired to do it, then you may as well not bid in the first place.
5. Do you have a plan for managing your team as it grows?
We've heard some business owners say that they are actually afraid to grow because whenever they try, things begin to get out of control. They don't have the systems and processes in place to properly manage a growing team, and ultimately they lose contracts because of it.
Before you move on to larger contracts, think about how you will communicate with even more cleaners and clients. Text messages and phone calls? Spreadsheets for schedules, time-tracking, and problem reporting? We recommend using janitorial software that can help you improve communication, support cleaners and ensure quality service for your clients. Swept is designed to do all of these things, and you can learn more about it here.
6. Do you have the cash flow to pay your cleaners until you get paid by the client?
You know you want the job, but how do you pay people to do it until you get paid yourself? As a small business, you could just muscle through, but as you grow your company, that tactic simply won't work.
Don't have cash flow? Here are some ways to get around it
Covering the gap between when you need to pay your cleaners and when you get paid by the client can seem scary.
Before tapping into your savings or "borrowing" from your credit cards, make sure that you can actually be profitable on the job and pay off that debt as soon as possible. If the debt is outstanding for too long, you run the risk of eliminating all your profits on the job when you have to pay the interest. These are suggestions on how you can cover the gap, however only you know what is best for your finances!
Tap Into Your Savings
If you had more than $20,000 sitting in your business account you probably would have stopped reading by now, but what about your personal account(s)? Or lines of credit?
Prepayment
What if you got paid before you even started the work? Then you wouldn't need to borrow anything! This is a simple solution if you can swing it.
Credit Cards
This option requires a lot of discipline as it can get out of hand quickly if you're not careful. Make sure that you understand how your credit card works and how your interest is calculated. Otherwise, you can do serious damage to your credit rating.
Talk to Your Bank
The bank that you work with for your business will likely be open to having a conversation with you about loaning you funds to cover this payroll.
While your business may not have any assets that you can use to secure the loan, the bank may be willing to loan you the funds based on the contract that you've just signed for this job.
How to Price Commercial Cleaning Contracts
So, you've completed the walkthrough, you know the value you can add to this client's business, and you are ready to work on your bid.
How to calculate Supply Costs and Margins
Who Supplies What?
Scenarios can differ from client to client regarding who is responsible for purchasing the supplies. In certain instances, the client may want to buy cleaning supplies. When bidding on new business, this can be an opportunity to differentiate yourself from competitors — if you have access to bulk purchase pricing, you can offer to buy the supplies at a better price for the client. Take every chance you have to set yourself apart!
How to Cost Cleaning Supplies
While there are various approaches to costing supplies for a bid, the most common strategy is to establish supply costs as a percentage of the overall contract. For example, you may have calculated that supply costs are 4% of the overall contract value, and you want to mark up costs by 30%. Remember — the costs of supplies aren't just the price you pay for them, they have to be stored as inventory, distributed to job sites, etc. Taking the time to understand all of the cost drivers is critical for ensuring the job you are bidding on will actually be profitable for your business.
Understand your Margins
In the most simple sense of the term, margins are the amount by which your revenue exceeds your costs. Prior to bidding on a new contract, you should fully understand the fixed and variable costs associated with that contract. We know that not every cleaning company owner has had the time to properly consider their profit margins, and that many feel rushed into bidding in order to get ahead of the competition. If the margins don't make sense, certain contracts aren't even worth bidding on. Use Swept's bidding calculator to see how profitable your quote will be!
Earn more revenue per contract with Service Add-Ons
Let's face it — your clients' needs have likely changed over the past few years. Now is the time to reassess your existing contracts and offer add-on services. Swept's Work Order feature supports you in managing your one-time and infrequent clean alongside your routine checklists. By adding on these specialty services, you can offer further value to your clients, and generate even more revenue per contract. This is a great tool to upsell after bidding on a contract!
It's time to submit your cleaning proposal
A very important thing to remember is that your sales pitch doesn't end when you leave the walk-through. There are still opportunities to impress the client. For instance, when you submit your proposal.
When submitting a proposal, "Do not oversell your service in writing. If it is in the proposal you better be able to back it up." said Marcus LaPoint. "You need to be cautious of vague wording or be a great talker when the client has misinterpreted the meaning. For instance, if in writing it says 'a team will be helping with setting up your account' and you just mean that your secretary will be typing the papers, be ready to defend it as the client may think a dedicated team is planning on being on-site to help with getting things started."
As for formatting, Marcus has found that "the proposal is a mix of balancing the needs of the client. This is where you must have a good relationship to get it right. I have found that public bids tend to be more liability-driven – as in looking for checks and balances of being good stewards of public funds, and businesses are a bit more innovative – they want to drive accountability and excitement for the staff."
Michael Brown, Swept CEO encourages "getting a good mentor, and also checking our Route bidding software". Not only does Route Proposal generator offer custom templates which give you the opportunity for personalization, "but they have built a community to help connect cleaning company business owners and teach them how to win contracts".
Haven't heard anything? A gentle nudge never hurts!
It's likely your potential client will receive proposals from multiple cleaning companies, so you really need to make sure yours gets the attention it deserves! We recommend following up with the client 3-5 days after submitting your proposal. Remind the client of how you can help them achieve their goals. You want to position yourself as the solution to their problems. By doing so, you're not acting as a salesman pitching, but as a real partner to their business.
Michael Brown, Swept CEO finds value in following up - fast! "Many cleaning companies are not organized and if you follow up fast, you highlight that you are well managed and anyone who didn't looks less organized. It is a way to build trust very quickly." Michael suggests "be there first to respond when someone asks for a quote. Call them as fast as you can. If you are busy, send a quick email or text response that says "thanks for reaching out, can I call you in 23 minutes".
Despite your best efforts, sometimes a contract just doesn't go your way. A good practice is to follow up and get feedback. If the client chose another company, find out why and use this insight to help you improve.
Don't give up! Your growth is all down to your mindset
If you don't get a reply - that is ok! Sometimes it's best to move on to other prospecting clients. There are millions of locations that need commercial cleaning companies, so your time will be better spent contacting the other businesses out there. There are plenty of other clients who need your help and will be thrilled when you reach out to them.
We hope you've taken some valuable tips from this guide. Our goal is to give you every conceivable advantage a commercial janitorial company could hope for! These tips should point you in the right direction and have you bidding with confidence and consistently winning contracts. Want to find out more about how Swept can support your growth while giving you a competitive advantage? Book a hassle-free call with one of our Janitorial Experts here, and let's chat!
Recommended resources section
| | |
| --- | --- |
| Target Markets: Why They Aren't Just for Marketers | This blog takes a closer look at what a target market is, how to conduct a target market analysis, review target market segmentation, and look into how sales teams can leverage target markets. |
| ISSA tip sheet | A thorough tip sheet with recommendations for risk assessments for the Cleaning Industry in Response to COVID-19. |
| Thank you for arguing, the third edition | A master class in the art of persuasion, as taught by professors ranging from Bart Simpson to Winston Churchill |
| S.W.O.T analysis | Swept's guide to Strengths, Weaknesses, Opportunities, Threats |
| How to reflect, learn and win after losing a contract | This gives some great insights in exploring "where did we go wrong". |
| Best SEO Practices | Forbes Advisor evaluated more than a hundred SEO service agencies based on multiple parameters, including specific SEO services offered, reputation for service excellence and track record for providing exceptional ROI. |
| Cleaning & Cocktails - Insights from Day 1 | Insights from the first day at Cleaning & Cocktails in Chicago |
| 62 Customer Reviews Statistics You Must Learn: 2021/2022 Market Share Analysis & Data | This analysis evidences the importance of customer reviews |
| Local SEO stats that matter in 2022 | Local SEO is quickly becoming one of the most qualified methods for local businesses to grow online. Here are 16 of our favourite local SEO statistics for 2022 that prove the importance of a local SEO strategy for a small business. |