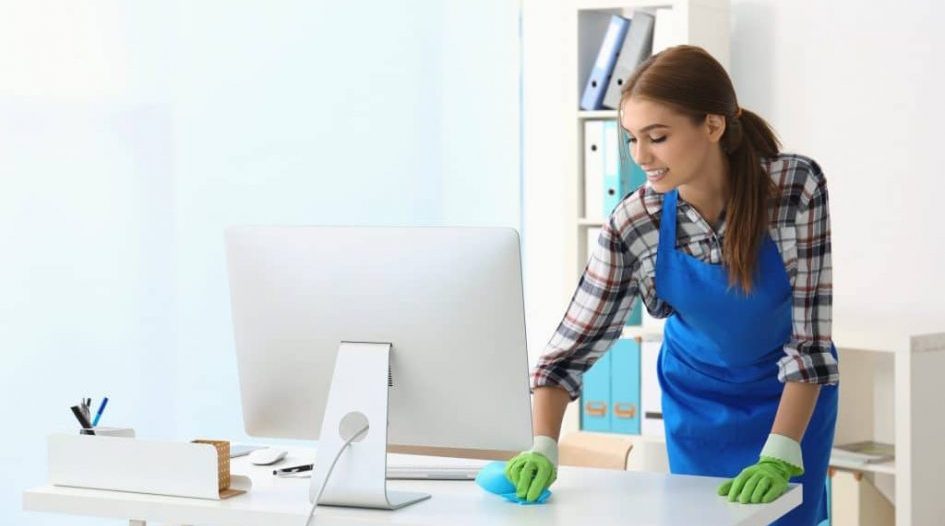 A few weeks ago we hosted a webinar called Cleaner Turnover Explained: What Every Janitorial Business Owner Needs to Know About Employee Retention.
And it blew our socks off how many of you were interested in this topic!
(If you missed it check out this blog post, it covers the same lesson.)
In fact, it has inspired us to dig even deeper into this topic and provide you with more concrete examples of how to combat the things that make us (ie. humans in general) feel we have a "miserable job": anonymity, irrelevance and immeasurement.
In this post we're going to look specifically at immeasurement.
According to Patrick Lencioni, author of 3 Signs of a Miserable Job, immeasurement in the workplace is when employees are not able to gauge their progress and level of contribution for themselves.
Lencioni says that employees "cannot be fulfilled in their work if their success depends on the opinions or whims of another person."
In this post we're going to look at one way you can ensure your cleaners understand what success looks like when they go to work each day. This will not only help improve cleaner retention, but also cleaner performance.
In other words, happy cleaners lead to happy clients!
Cleaning Instructions
The concept of cleaning instructions is pretty straight forward: provide your cleaners with detailed instructions for every location they are expected to clean.
The downside of cleaning instructions of course is that they can be time-consuming to create, especially if you have a lot of locations and cleaners, so if you're going to spend the time, you'll want to get the highest possible ROI (return on investment.)
Here are our recommendations for making your cleaning instructions really effective:
1. Keep them accessible & up to date
One of the biggest reasons owners and managers fail to provide cleaners with written cleaning instructions is the challenge of keeping them both on-site, yet up to date.
When a client requests an additional service at a location or changes the way they want something done, it's not practical to have to drive to the location to update instructions that live in a notebook in a desk.
The easiest solution to this challenge is using technology to communicate and update cleaning instructions. When cleaning instructions live online in some form of cloud-based software, cleaners can not only access them from anywhere using their phones, but you can update them from anywhere as well.
2. Consider language barriers
Chances are not all of your cleaners speak English as their first language. This means that if your instructions exist only in English, they may not be helpful to everyone.
If you really want to get the most out of your time spent on cleaning instructions, go the extra mile and use a service like Google Translate to put instructions into the native language of each of your cleaners.
We believe so strongly in the impact of this step that we built an Enhanced Translation feature right into our software!
3. Use Photos
This one isn't just for the cleaners.
Nothing impresses a client more than when you show them that you not only provide your cleaners with detailed instructions, but that they'll actually have photos of their space with notes of high-priority tasks.
When we ran a cleaning company we would go into a walk through and ask the potential client, "what was the biggest area your previous cleaning company let you down?"
They'd show me the spot, and we would show them a photo like this:
Then we'd ask:
"Do you think our cleaners are likely to miss that if they have a photo like this on hand?"
The answer was always an excited "no!!!"
We were once even told our company was "cool". A cleaning company. Cool.
Anyway back to the instructions — we recommend using a program such as Skitch to add arrows and notes to your photos when you'd like to highlight a particular task or area.
4. Go beyond cleaning
It's not hard to make a list of things to clean.
What's hard is thinking of and including all the extra little pieces of information that will show the cleaner you want to support them in every possible way. Things like what entrance of the building to use, where to find key codes for the doors, what order to complete tasks in, what to do / who to contact if they run into an issue, etc.
Take the time to put yourself in the shoes of a new cleaner at a site for the first time. What questions will they have? What challenges might they run into?
For inspiration, check out our sample cleaning instructions below 🙂
---
Sample Cleaning Instructions
Before your arrival:
Use parking spots furthest away from building

Get keys from the Security desk located in the lobby – if no one is there when you arrive, you can get them by entering Lockbox code at the main door (you can view this code in Security lock page on mobile app – enter your security pin to view this)

Log your cleaning times by signing in/out to your location on Swept App
While onsite and after:
Lock all doors before starting and keep your keys on you at all times

Turn lighting on when needed and off when finished

Report anything unusual to your supervisors when signing out of a location

Post any information you want to inform other cleaners in that clean same locations (your supervisors can see it too)

Notify supervisors when supplies are running low or completely out by requesting supplies on Swept
Area's to be cleaned:
Elevator

All Hallways

All washrooms

Kitchen

Conference Room A & B
Equipment/Supplies Provided By Example Cleaning Inc:
Downstairs Janitor's Room:

Water Bucket, Cleaning kit, Rags, Industrial Mop Bucket (yellow) and Mop Handle, Broom and Dustpan, 24" Dry Mop, Toilet Paper, Paper Towel, Soap, All Cleaning Product, All Collection Bags, 1st Aid Kit # 14, Door Stops, Box Cutter, Wet Floor Sign, Vacuum and Attachments 1.25", Feather Duster, Burnisher, Cart

Upstairs Closet:

Industrial Mop Bucket and Mop Handle, 24" Dry Mop, Wet Floor Sign
Site Garbage/Recycling Procedures:
Garbage: (Clear Bag) Collect all garbage on both floors from desks and common areas, change any soiled bags.

Paper: (Blue Bags) no paper collection from any desks. Collect only from common areas or holding bins

Shredded Paper: No shredded paper collected.

Recycling/Cardboard: (Blue Bags) Collect all from both floors except for refundable or money back bottles (staff will look after these bins)

Compost: (collect in clear or blue and dump into outside green bin)
**Remove from all washrooms, kitchens and common areas to outside green bin nightly**
Garbage Disposal:
Garbage/Paper/Recycling: Place in designated outside shed/dumpsters

Compost: Dump into green bin in outside storage area
Everyday Duties:
Collect garbage as outlined above from all areas.

Clean all washrooms replenishing any supplies that are low – from Janitor's Room downstairs

Tidy all kitchen and kitchenette areas (wipe stove top, tables, sink, etc.)

Check upstairs rooms, steps and hallways and clean if needed.

Check all high dusting at desks (tops of partitions, bookcases, hutches)

No cleaning of workspace areas on any desks. Dust all other common areas like window sills, baseboards, open wall ledges, filing cabinets, etc. This dusting can be done on a rotation basis but not left go until there is a dust build up

Clean high traffic glass as you go through building

Vacuum all high traffic areas (mats and floor) each night.

Spot vacuum any other floor space and upholstery where needed. Vacuum all other areas on a rotation basis so that a complete vacuum is done once weekly

Mop all bathroom, high traffic and kitchen floors nightly.

Spot mop any other floor space that's needed and rotate other floor space so that it's had a complete mop once weekly
Monday-Friday (Suggested Routine):
All of the everyday duties must be done each day but not necessarily in this order

Start with 1st Floor and move up using the elevator

1st Floor: Hallways, Washrooms

2nd Floor: continue with cart, kit and clean rags throughout the whole top floor and collect all garbage from desks and holding bins (sort garbage). You can dust at the same time as you work through the building cleaning high traffic glass as you go and checking ceiling vents, window sills, high and low dusting, etc. Do these tasks on a rotation basis nightly or as needed

Stairwells can be checked/cleaned on this floor or the lower. Once all the above is done make mop water and Vacuum/dry mop and wet mop all high traffic areas and spot mop/vacuum any other areas as needed.

Once completed put mop bucket and floor tools away.

Turn off lights in all areas and move to lower floor.

1st Floor: You can drop full bags of garbage here to start fresh for downstairs. Vacuum and mop your high traffic areas, washroom floors and any other floor space that is needed. Take garbage/compost out. Tidy up janitor's room and return onsite keys.
Once a Week:
Check for cobwebs (high and low).

High/low dust (window/door sills, baseboards, etc.)

Check Vacuum Bag

Make sure there has been a full mopping and vacuuming

Once a Month:

Check garbage cans and clean if needed

Check chair bases

Check ceiling vents/security lights, etc.

Clean the conference room

Do not touch contents on the tables

All chairs are to be pushed in
Areas to pay attention to:
Pay extra attention to the back room and be sure to clear the tables:
---
Final Thoughts…
The great thing about having detailed cleaning instructions is that it not only supports the cleaner, but it will help you or your managers give feedback that is fair and constructive.
Remember what Lencioni said about immeasurement — employees cannot be fulfilled in their work if their success depends on the opinions or whims of another person.
Using the cleaning instructions to create inspection reports and provide feedback allows you to be much more objective when reviewing a cleaners work. Some janitorial businesses create a scorecard for each cleaner where they record both positive and negative feedback.
If you're looking for advice on the best way to give feedback to cleaners, check out this blog post.
Hope this post has persuaded you of the benefits of having cleaning instructions for each of the locations you clean! Good luck!