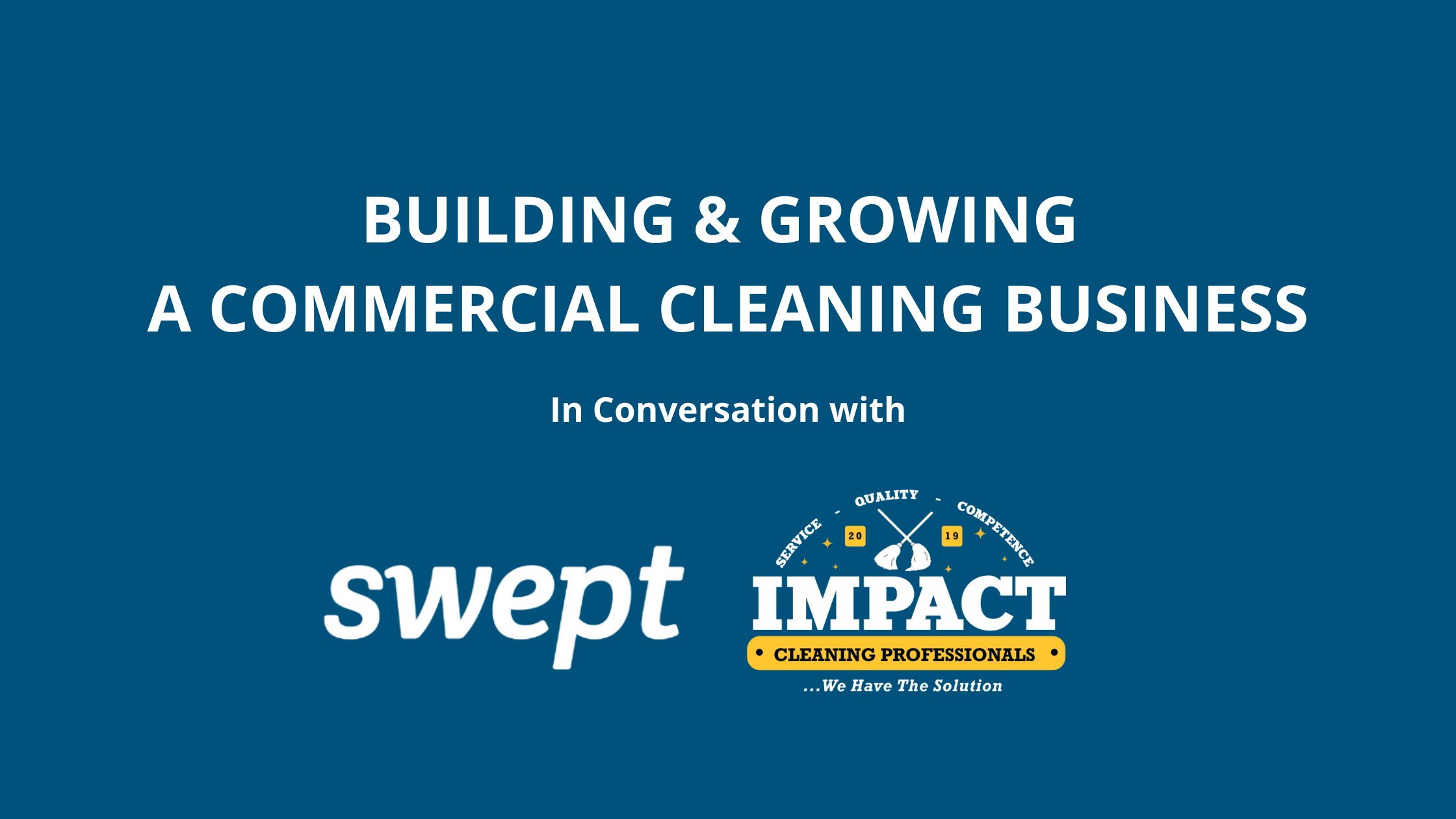 Swept CEO, Michael Brown, recently sat down with Antonio Williams, the owner of Impact Cleaning Professionals.
Their conversation dives deep into Antonio's journey of starting & growing his own cleaning business - the toughest parts of owning a cleaning business, how he managed to win contracts using Swept, and how technology has fuelled his growth.
Below is the excerpt from the conversation they had. Want to listen to the full interview?
Swept:

What were you doing before you ventured into the cleaning industry?
Antonio:

I actually come from a management background specifically retail. I did that for about 10 years and then transitioned to financial services which lasted for about 6 months. After that, I took on an Operations Manager job, as by then I had already got a little taste of the entrepreneurial lifestyle. That's how I started my cleaning business.

My first year of owning a cleaning business almost made me quit because I was charging way too low for the contracts I was working on. But then I slowly learned how to bid more effectively and now here I am - a full-time cleaning business owner.


Swept:

At what point after starting your cleaning business did you make your first hire? Tell us a little bit about your experience hiring & training cleaners?
Antonio: When I started out I hired 12 cleaners on an hourly basis. We were doing good work and it was profitable. Then I started noticing there were too many employees that were not really a part of the culture and they started to leave. When they started leaving, I did not chase them or immediately replace them because I did not have a system in place for accountability or a system to follow up or anything set up.
At that moment I decided to take a step back, work to find a system that will support me in better managing the team and the business instead. And then decided to hire again.


Swept:

How did you find Swept?
Antonio: I saw you (Michael) and Ricky Regalado (CEO of Route) had done a video on his channel with you and him explaining Swept and I thought this is something I have to try and it sounded like exactly what I needed. When I first tried it, I didn't really put the time into it. I did not take up the onboarding sessions, I was like "I can figure out how to make it work" but I just couldn't. I wasn't able to use it as efficiently as everybody was saying. So I just stopped using it.
Then, when I went to the Cleaning & Cocktails event in Chicago I heard multiple people say Swept was working for them. I thought "I have to give this a try again" and no jokes, I started using it and never turned back. It makes everything so much smoother.


Swept:

How did you use Swept to win cleaning contracts?
Antonio: I'm the type of person that once I find something that works, I try to implement it very quickly and incorporate it into really every aspect of the business that it fits in.
As soon as I left the Cleaning & Cocktails event I had a walkthrough. I had been selected as a finalist for a contract. I did not even think I was going to make that one, but I got to the top three. In my proposal, I had put Swept as the thing that separates us from the competition. There was info on how we manage our operations, how we communicate, how we know what our cleaners are doing in real-time, have inspections reports, etc.

What happened? They called us back and told me that I had won the contract!


Swept:

How has your journey been so far as a cleaning business owner? Are you enjoying it? Any tips?
Antonio: I absolutely am and even the rough parts of it, it's been an experience. I have some awesome mentors within the industry that I wouldn't have if I hadn't attended some live events. If you don't go to live events you should. Events have helped a lot because my mindset of where I thought this business could be when I first started it, versus where I see it now when I meet and talk to people who own businesses that are doing over $100 million pushing $500 million and started just like me. If they did it I'm also going to go for it.