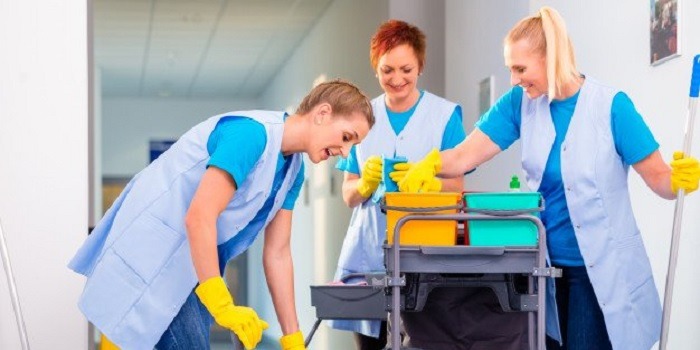 Communication and team development are important for every business. But it's especially crucial for janitorial company owners to keep things running. To optimize your team's efficiency, you need people who can talk to each other!
Here's why communication is essential to every cleaning company's success and how business owners and managers can support better communication goals on their teams.
1. It's not just essential—it's the only way you'll maintain a successful janitorial business.
"Communication is the most important part of a business running successfully," says Zachary Binder for Forbes. Ensuring that you have a work environment that supports clear communication between your team members is the best business strategy that a company founder or manager can adopt.
Good communication helps managers and teammates address issues before they crop up and become full-blown disasters. Running a cleaning company can involve crisis management, but with good communication, you and your team can learn to smoothly navigate problems like shift changes or supply issues.
2. Communication keeps your team aligned and connected, which makes you a more authentic company.
When your company supports a strong connection between team members, you create a culture that you can be proud of. However, that means you need an open-door policy for communication.
"Are junior members afraid of being shamed for not understanding the task? Are bosses being more bossy than helpful? A culture of authenticity and a sense of goodwill goes a long way when it comes to effective communication," April White writes for Forbes. When team members know that they can go to their managers or other team members for collaboration or guidance, it establishes better communication and an authentic connection among your employees.
This kind of communication boosts morale and keeps your team tight-knit. But depending on the size of your team, it can get complex. Larger cleaning companies need a game plan for open communication. If you manage supervisors and managers, they'll need tools for getting information to and feedback from their team members, as well as a way to use those tools effectively. Align your goals toward better company-wide communication with a solid strategy and the right technology for your team.
TIP: You might be able to test out different platforms or applications to see what works best for your team: tools like Swept will let you schedule a demo to take a test run of the product.
3. Feedback is the best way to grow as a team and meet goals.
"Embracing feedback as an integral part of your culture is key to identifying potential issues that may arise," says Jessica Reznick for Forbes.
Let your team know that you're open to their feedback by setting up regular stand-up meetings each week. While it's not the best feeling to get negative feedback, it's the only way that you'll grow as a company and improve how you do business.
Checking in with your team members consistently will help you make progress on improvement and keep everyone accountable for their goals. Schedule these regularly, and meet face-to-face when possible (video conferencing also works).
4. Communication helps with retaining great employees.
"Constructive feedback and recognition for a job well done reduces turnover," writes Joshua Stowers for Business.com.
Are you doing everything you can to keep employees engaged? Besides regular check-ins, let your team know that you appreciate their work. Communicating praise and positive feedback to employees encourages your team and keeps them motivated.
"Incentives could also act as an aid to reduce employee turnover rate," recommends Stowers. "Employee of the Month, sales awards and bonus checks are just a few examples of incentivizing a job at your organization."
A culture of connected employees who communicate well with each other and feel supported will go a long way toward sustaining your business success.
5. Consistent communication across all channels, especially with your clients, keeps you in business.
Promoting a culture of transparent and open communication with both your team members and clients will ultimately pave the way for more opportunities.
"Whether you are competing to get the job you want or to win the customers your company needs, your success or failure depends to a large degree on your ability to communicate," states Wits Language School.
Setting expectations with your clients—around project details or timeline—builds trust. When you have an open communication channel with customers so they can reach out to you and give feedback, you maintain a lasting connection with them. This can build rapport with your clients and make it more likely that they will recommend your services to others.
6. There are useful tools for communication already out there.
Communication is essential for getting a job done right, and today's technological innovations offer myriad ways to talk with each other. "Why not use the tools that are available to us to simplify that step?" says Zachary Binder for Forbes.
Adopting a new communication tool offers managers and team members a platform for communication and project efficiency. Not all communication tools work with the needs of the janitorial industry, however.
Swept is a solution for janitorial firms to improve team communication and manage client expectations around their services. It's already helped companies meet their goals for better team communication and project management. "I didn't think it was possible to find a piece of software that is this laser focused and specifically designed for my company," admits Jason of Inside-Out Cleaning.
Make your team's communication more effective
Communication matters because it helps teams do more effective work while using fewer resources.
The Swept app will help your janitorial team connect more easily and can keep client communication on track in a few meaningful ways:
Swept features problem reporting, which helps alert teams to any issues on a project (before they become disasters).
Swept's enhanced translation features help diminish language barriers for diverse teams who speak multiple languages.
Managers can monitor shift hours and track supplies to set expectations about each project for better client communication.
Swept acts as an all-in-one management app for janitorial operators and their teams. From communication tools to reporting and real-time updates, Swept will help your team stay ahead of issues on a cleaning job, before they become problems. Learn more about Swept here.
Swept's janitorial software helps janitorial company owners build trust with clients and get ahead of the competition by giving them the tools they need to spend more time managing their business and less time working in it.
To see how Swept can help your janitorial company grow, schedule a free demonstration with one of our experts today!