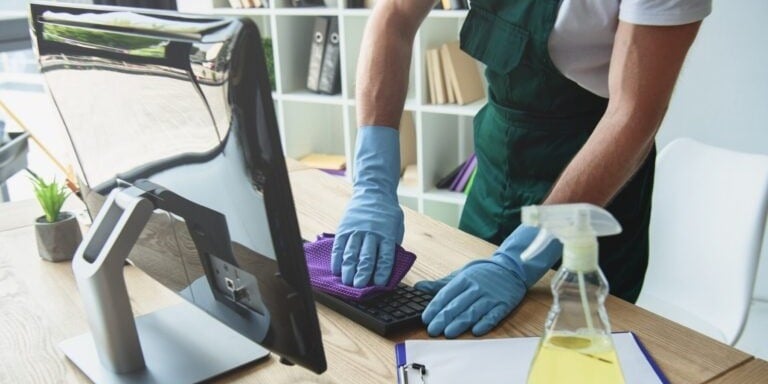 The janitorial industry is projected to be worth $117 billion annually, with future projections rising due to changes caused by the COVID-19 pandemic. The demand for cleaning services continues to increase. As states and counties roll out reopening plans, sanitizing public spaces and environments is a central component to safely opening schools, universities, and other venues. For example, schools planning to have in-person instruction are increasing the number of times that facilities are cleaned throughout the day to prevent the spread of COVID-19. With restaurants and other venues setting up for larger crowds, businesses have an increasing need to maintain clean and sanitary facilities.
New regulations and health codes make janitorial services especially crucial because business owners are looking for cost-effective methods to adapt to changing health and safety codes. Many businesses find it cheaper to outsource cleaning needs because otherwise, they will have to create entirely new positions to meet cleanliness standards, which can be difficult if they must also develop new training methods and internal policies. Janitorial companies can immediately solve these needs with trained and experienced staff, which can help businesses save money. Meeting customers' needs can be complex during times of constant change, which is why janitorial cleaning software has features and options that can improve quality control, communications, and profitability.
Improve Operations
Janitorial cleaning software allows all employees to communicate with coworkers and management. This is especially useful when the work site makes it challenging to communicate orally. For example, if there is a great deal of noise at the work site, staff can use janitorial cleaning software to send text messages to supervisors and other staff members. This also makes it easier for employees who have hearing problems.
Cleaners, management, and clients can maintain an open line of communication, which cuts down on mistakes. Making sure all employees can communicate improves workplace performance and reduces lost work hours. If a worker is waiting for a phone call from management before continuing their task, it can delay the completion of the job. With janitorial software, workers and management can share videos, pictures, and text messages instantly. This ensures that problems are addressed quickly and effectively.
Janitorial cleaning software also allows management to ensure that quality control standards are followed. Regular inspections and tracking performance by location prove to your client that you have the controls in place to monitor cleaner performance. Ensuring that workers are meeting company standards is vital for improving customer relations and identifying whether employees need additional training in certain areas. Tracking performance also allows managers to see which employees are consistently meeting and exceeding expectations.
Scheduling features make it easier for employees to review their shifts and work site locations. Scheduling and time tracking allow managers to easily run payroll reports and verify that cleaners show up at work sites on time, which reduces payroll-related errors. Managers can ensure that their workers are submitting accurate hours because they can see when cleaners arrive and leave work sites. Reducing payroll errors can improve profitability, and software can decrease the amount of time that managers spend verifying hours.
Track Metrics
Janitorial cleaning software gives you an overview of your business. Checking your metrics is a great way to improve your margins and profits. Janitorial cleaning software allows you to review:
Employee performance data
Number of workers on each site
Hours worked
Problems faced by workers and customers
Location-specific information to help optimize routes and reduce time traveled between sites
Janitorial cleaning software can help you see which employees are exceeding expectations and which ones need to improve their performance. Tracking performance allows you to address issues quickly. The sooner that mistakes are addressed, the less likely they are to be repeated. Janitorial cleaning software gives you a valuable tool to understand the needs of your workers. If multiple workers are making the same mistake, it can identify a potential issue with training or supervision.
Since janitorial cleaning software allows you to track employee performance, it's easier to identify workers who would excel in a management role or who demonstrate traits that could make them a better fit for a leadership position within your company.
Reviewing this data helps guide your future decisions to improve customer relations and profits. Making sure clients are happy with your service is crucial for advertising your business, because satisfied consumers will refer you to other clients. Janitorial cleaning software makes it easier to focus on growth and expansion, as it cuts down on the amount of time that management and leadership must spend on tasks like scheduling and payroll.
Swept helps janitorial cleaning company operators achieve scalable business growth, improve their work/life balance, and spend less time managing cleaners and more time focusing on important business goals.
To learn how we can help you, schedule a free demo with our team today!