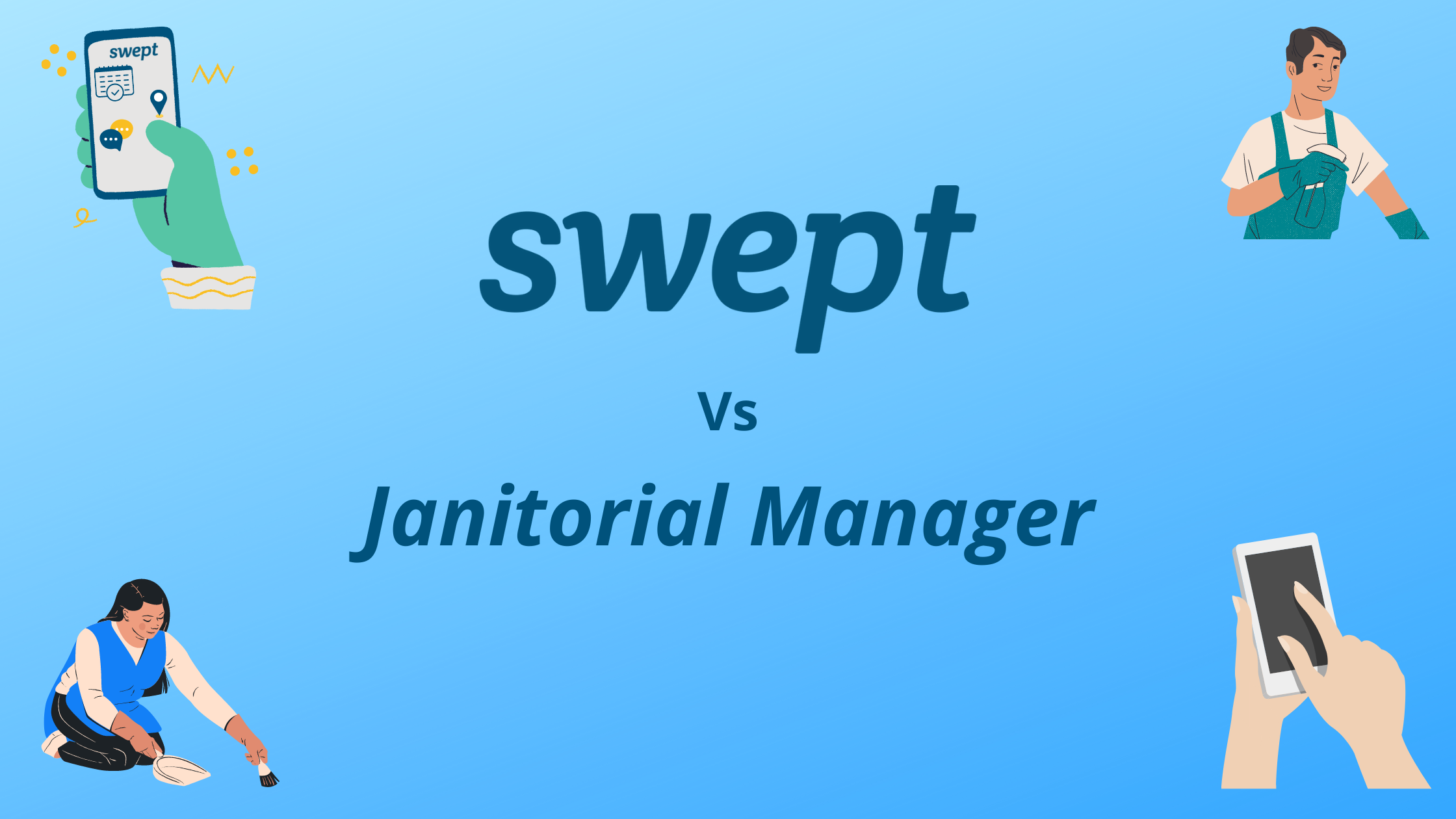 Choosing a new software for your business can be challenging, especially when there are so many options available. Swept and Janitorial Manager might look similar in their offerings so let's take a deeper dive and talk about some fundamental differences between the two.
Let's get to it! When it comes to ease of use, how do Swept and Janitorial Manager compare?
Swept is incredibly easy to use. Our app was built to support cleaners and their managers alike, so it is intuitive and straightforward on both mobile and desktop! Janitorial Manager, however, based on reviews can be complicated to learn and difficult to use, and requires you to be savvy with technology. We understand that commercial cleaning company owners don't have the time to put into extensive training, which is why at Swept, we like to keep our product simple!
Swept versus Janitorial Manager in terms of features?
When looking to invest in technology, the first thing to do is see how it's going to work for you. Make sure you get a demo of how the product solves your biggest problems (not all your problems…). Some of our customers found it was hard to get a demo with Janitorial Manager, so it's important to have full visibility into what you are buying into. Having confidence in the product you are going to be working with from the supplier's side, is of absolute importance!
While both companies have similar features in terms of time-tracking, scheduling, what is true here is that not all features are created equal. Make sure the system you are implementing is easy for you to use, your supervisors, and your cleaners.
Swept's supply tracking, for example, allows cleaners to use the app to let you know when supplies are running low, and how urgent it is without duplicating requests, saving money and time.
Janitorial Manager has Inventory Management for managing supplies for clients. Their approach works slightly differently, where a monthly supply budget can be set for individual locations. Our customers find benefit in seeing the detail of the supplies needed as it helps them keep in control of the day-to-day operations.
How much does Swept & Janitorial Manager cost?
Swept: Pricing is based on what features you would like and how many locations you have. We offer unlimited users.
Janitorial Manager: They don't have transparent pricing. Their pricing is per user. Janitorial Manager offers the ability to limit access to some features that your company may not need and negotiate pricing based on these limits.
Let's break down the cost of implementation: Swept & Janitorial Manager?
Swept has a $250 implementation fee for our Starter package. We provide you with a dedicated Customer Success Manager who will help onboard you once you sign up with Swept. It's that simple!
Janitorial Manager charges a pretty hefty implementation fee, which is based on users. We have heard it can be quite challenging to set up, so it's worth having a tech-savvy person on board if you decide to go down this route!
Swept
Janitorial Manager

$250 implementation fee for Starter package

30 Users

$750 implementation fee
How many apps do I need to download on each of my devices?
With Swept, one! Just a simple download from either Google Play or Apple and you are good to go. Our app is created to save you time, not to make you spend MORE!
With Janitorial Manager, you need to download two. The Janitorial Manager app is for inspectors to perform their inspections. Whereas Janitorial Manager Connect is for cleaners. Luckily, you can set them up to speak to one another, however, that does mean you will need to sync the apps each time you do an inspection.
So, what's better? Swept or Janitorial Manager?
Now that you have the information, you can choose what is the best fit for your business. Book a demo today to see what Swept can do for you.