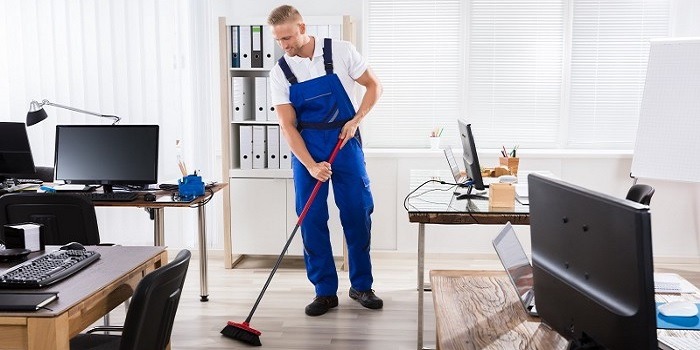 Anyone in charge of a janitorial business must manage a million moving pieces, from scheduling, multiple locations, client communication, and issue management.
Keeping track of all of this can be tough if you're using pen and paper, or the wrong tool for the job. There are many different apps and janitorial software solutions out there but do they make your life easier or just add to the confusion? This leads us to ask you this question: what should your janitorial software do for you?
What Businesses Should Demand from a Janitorial Software Solution
Communication is vital for growing any business but, that's especially true when you're managing a janitorial team that is more often than not remote and operating over multiple locations. Today's cleaning industry has evolved, especially with the high demand and changing landscape of the COVID-19 pandemic. But the industry is expected to grow even more in the next few years: data suggests that cleaning services will grow to $74 billion by 2022, according to Allied Market Research.
Fortunately, advancements in janitorial business software mean it can help managers handle their teams and clients more effectively. You no longer have to rely on solutions built for other industries. So what should you be looking for in janitorial software?
Essential Janitorial Software Features #1 - A way to track feedback and progress
How easy is it for your staff to get a hold of you? Are you still using WhatsApp or text messaging? Does it feel organized?
When you offer your team tools that make clear communication possible, they'll be empowered to reach out when issues arise. Meaning you are aware and can tackle it before it escalates to your client. Open lines of communication generally tend to create strong team relationships and more efficient, effective work. The benefits extend beyond that for your employees.
A communication tool can also encourage each crew member's personal growth and can do more for their performance than a yearly review. Research shows that the traditional annual review isn't that effective, anyway. "Frequent, informal check-ins, on the other hand, are more likely to accurately track an employee's performance—something that's more useful for both team members and managers in the long run," the experts at Slack report.
Modern janitorial software is now available for teams to easily check in with each other, and Swept's software gives your employees a way to report back on their jobs every week with features like direct messaging and mood reporting.
Essential Janitorial Software Features #2 - Technology that empowers your team to work smarter and more effectively
If you manage a team of employees, it's your job to help them perform at their peak, and you can support them by giving them the tools to do their jobs more effectively. Whether it's clear cleaning instructions to the specifications of the client, inspection reports for the end of the shift or even just supply reporting – make sure your software makes your life easier.
That's why Swept gives cleaners a way to report on supplies, before they run too low. Supply tracking gives your crew an easy-to-use tool to monitor their supplies at each location. They'll be able to communicate if anything is running low and how immediate that need is.
Essential Janitorial Software Features #3 - The ability to show your team that you understand
The janitorial industry in the United States employs a diverse population. Company managers can make communication easier for everyone by giving their janitorial team a software that comes with enhanced language translations. Everyone will be able to read client messages, problem reports, and cleaning instructions in their own native language.
"Having a teamwork environment will encourage others to share their success and ideas. There is room for everyone to be successful at a company," says Sheila Halvorson for Forbes.
That's why Swept has over 100 languages to choose from, so your crew can stay engaged and in touch with each other, creating a healthy, collaborative environment.
Essential Janitorial Software Features #4 - Tools to establish trust
When you have reliable software that allows everyone to communicate with ease, you'll also have an easier time keeping your clients happy. If setbacks on a cleaning project come up, having a direct line of communication between client and vendor prevents bigger issues from bubbling up.
For your clients, "dealing with a vendor that is not living up to expectations can be frustrating," says Derrick Carroll for Kitchener Clean. Clear communication helps establish a better long-term relationship between your company and your client, and "it is good practice to try to work out issues before moving on."
Resolving setbacks immediately with your client provides everyone with a solid foundation for a lasting relationship (and makes it more likely for them to give you referrals).
Software That Solves Janitorial Business Demands
Empower your crew and janitorial business with software that supports you. Swept software was created specifically for janitorial services teams, as it gives managers control and visibility into schedules, supply changes, and client communication. Features include:
Tools for time tracking and payroll reporting
Better methods for communication between employees and with clients
Enhanced translation features with over 100 languages available
Supply management tools so your team can avoid supply shortages
Swept knows that communication is essential to the success of your business. But in the janitorial services industry, communication can be tricky for busy teams. Learn how Swept's janitorial business software helps companies everywhere navigate those challenges and get the job done.
Swept helps commercial cleaning company operators achieve scalable business growth, improve their work/life balance, and spend less time managing cleaners and more time focusing on important business goals.