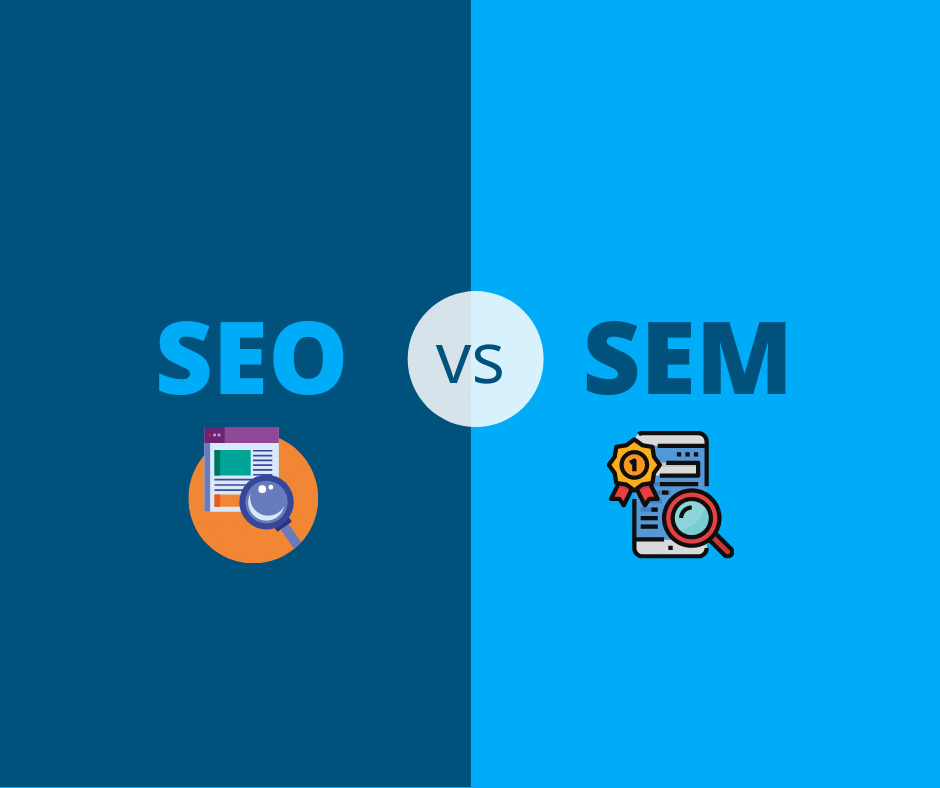 If you are a business owner, whether you own a start-up company or a well-established one, a commercial cleaning business, even a restaurant business, no matter what you have probably somewhere somehow come across these terms called SEO and SEM.
Someone may have asked you if you are investing in SEO & SEM or you may have seen or read about it in an ad, blog, article on the internet that was targeted to you.
Two very technical sounding words but ever wondered what they really mean? Or what they could really do for your business? In this post we explain the difference between these two words in a simple way and easy to understand language (no more marketing jargon) so you can decide what is right for your business.
SEO stands for Search Engine Optimization
What it means is getting a website ranked inside of a search engine. So when someone uses keywords (does a google search) to look for you on search engines like Google, Bing, etc. your website will show up high on the list.
The ideal best scenario is to have your website show up on the first page of the search results page (SEPRs) when someone searches for you or products or services similar to yours.
There are other platforms that have their own search engines like Facebook, YouTube, Instagram etc. but Google and Bing are two of the most commonly used search engines.
SEM stands for Search Engine Marketing
SEM includes paid tactics that brands use to increase their search visibility. What that means is brands pay google or any other search engine to have their page/ website to show up on the top of the search results. When someone searches for products or services that are similar to their offering, their website shows up on top of the search results page (SERPs).
One of the main distinguishing factors between SEM and SEO is SEM is a paid tactic whereas SEO is organic (or not-paid for).
The other differences between SEO and SEM are:
SEO: You will heavily have to invest time in producing/ publishing more content on your website. Eg. Blogs, articles, etc. This increases the number of keywords on your website and encourages the Search Engine to put your website higher up on the results page.
SEM: Blog or organic content doesn't affect SEM.
SEO: Results take time. You will only see a difference over time, it is a steady process. You need to keep posting and the increased amount of helpful content/and amount of clicks from people on it will start to take effect.
SEM: Results are instant but it doesn't do much to provide value over time. Some people don't want to click on an advertisement but it does introduce your brand to them so it can actually increase clicks on your organic content.
SEO: Chances of people clicking through to your website on finding you on top of their Search Results Page (SERPs) is higher.
SEM: Chances of people clicking through to your website on finding you on top of their Search Results Page (SERPs) is comparatively lower. People don't usually click on ads.
SEO: It does not have a restricted target audience. It will show up to anyone that searches for relevant keywords.
SEM: This is shown specifically to your target audience. This is the audience you chose when you were setting up your SEM campaign. You can bid on whatever search terms you like even if they aren't in your organic content on your site.
If you want to see an example, open google now and put in the search bar the words 'commercial cleaning business', and see the results that come up.
The ones that show up on top starting with 'Ad' when you searched for 'commercial cleaning business' are all from SEM efforts. That means those cleaning companies have paid to appear on top search results.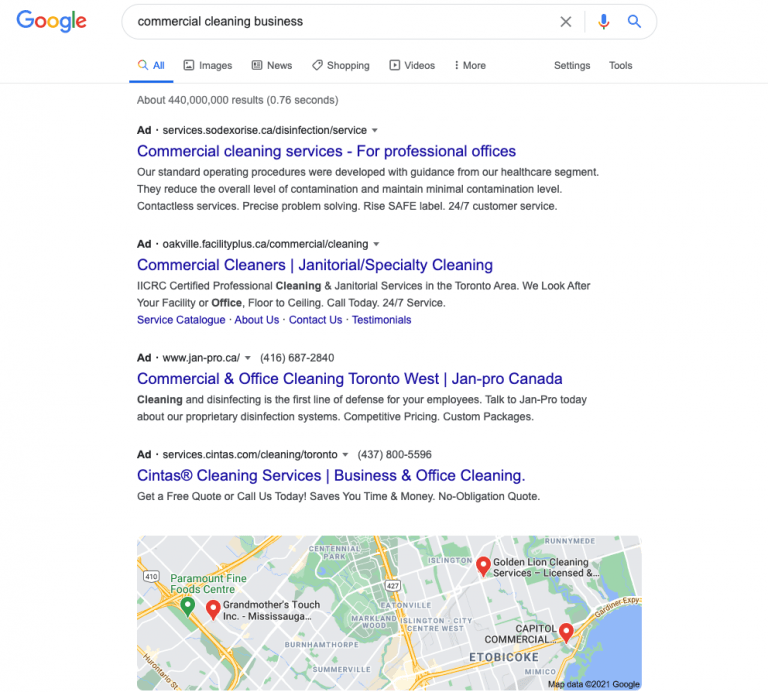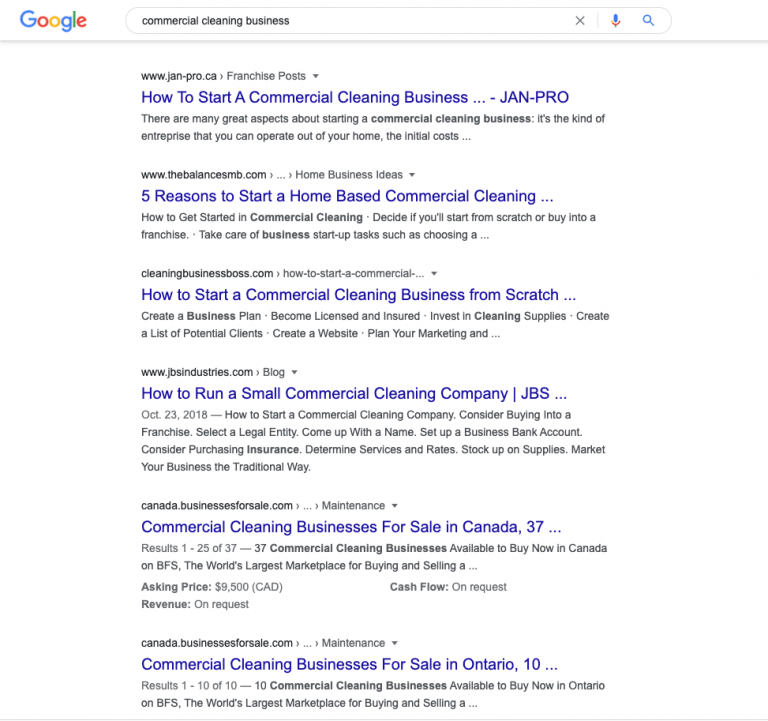 All the search results for 'commercial cleaning business' that show up after the 'Ad' section are all from having a strong SEO (that's the organic one) presence eg. lots of relevant content and keywords on their site. Their high ranking on google is because the content they have on their website is helpful and makes sense for the search term. Hot tip: you couldn't just create a site that's full of keywords and fake content that doesn't say anything – google will move you down the ranking based on quality.
This is where differentiating yourself comes in handy. If you service a particular area or a niche industry (like auto dealerships) – if you include keywords about that in your content like "How to hire a cleaning business in Chicago" it will set you a part from your competitors. The same goes for SEM – if you bought the search terms that identify your location or expertise, you may have a better chance of ranking higher.
All in all, both SEO and SEM can be good for your cleaning business; it just depends on your budget and your approach. It might actually be more affordable to pay for SEM instead of hiring a professional writer to create enough content to increase your SEO but it depends on where you live, what your expertise is, who you're competing against in the search results and what you want to achieve.
We hope this article helped in understanding the basic difference between SEO and SEM.
If you are in the process of making a marketing plan for your cleaning business, we recently put together an article on 4 Easy Ways to Market your Commercial Cleaning Business that you can checkout.