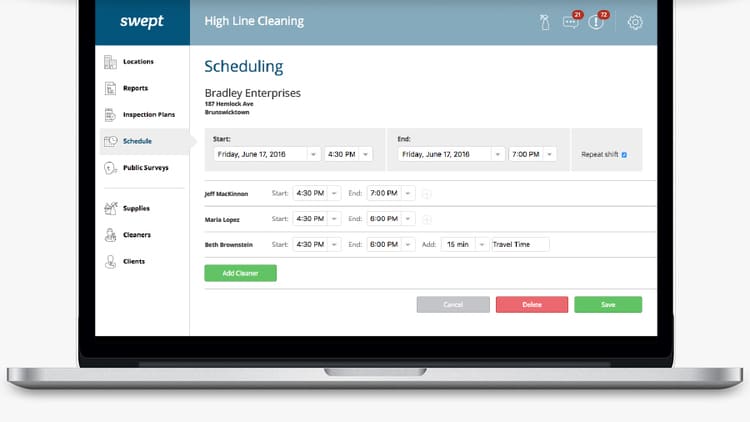 We're really excited to announce the release of our new scheduling features into Swept!
Starting today, customers are able to create and communicate shift schedules to their cleaners through our web and mobile apps. These features will help your team stay on the same page and make sure you know about issues while you still have time to react.
Interested in seeing more? Request a Demo and our team can review these features in detail to see if Swept is a good fit to help you focus on your cleaners so that they can focus on your customers.
Cleaner Schedules Made Simple
Managers can easily create shifts and assign cleaners. Need to add additional time for travel, no problem, Swept let's you customize their time on a recurring or one-time basis.
Schedules On-the-Go!
Cleaners and managers are provided access to their schedule through the free mobile app available to all Swept customers. No limits on the number of cleaners or managers. Now everyone knows where and when to be onsite.
Real-Time Updates
As things change, your staff will be updated in real-time. Newly assigned, updated or removed shifts will generate updates for your cleaners so you know you're always on the same page.
Late Alerts and Reminders
Need to know if staff is running late? Swept will automatically notify you when cleaners have not signed in as expected. We'll also send cleaners a reminder just in case they forgot.