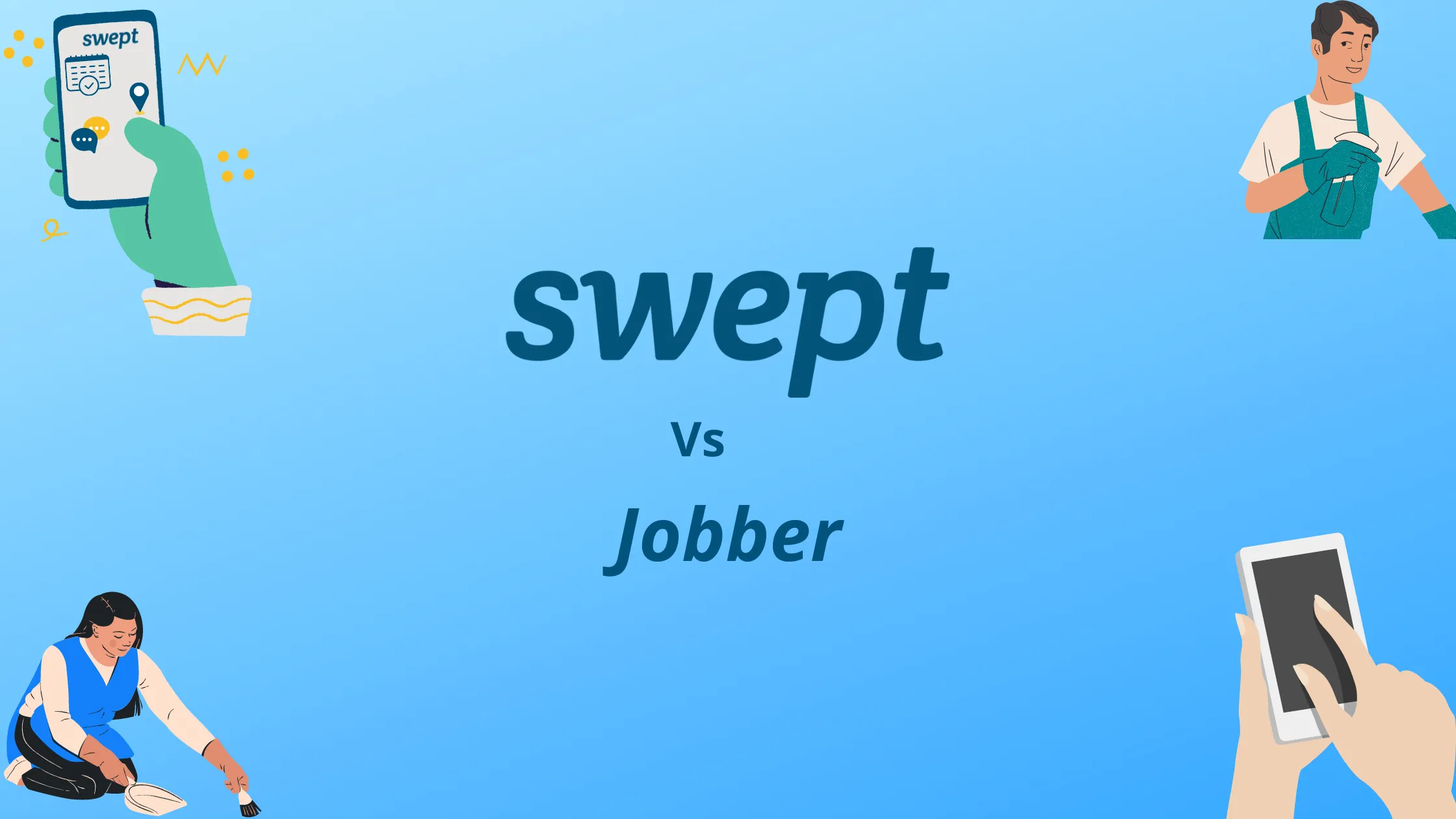 Buying software can be a challenge, especially when there are so many options available. Swept and Jobber might look similar in their offerings from the outside looking in but they are different tools that are good for different kinds of businesses. There are fundamental differences that we will discuss, that may help guide you in finding what is the best fit to make your business a success.
Let's get down to business!
When finding the right software, you first need to understand who it was created for.
Swept is Operational Software specifically for Commercial Cleaning companies, whereas Jobber was created to support all kinds of field service companies.
A product is built to focus on solving challenges in the industry of their core customers. At Swept, when we think about the improvements we can make, we focus on what challenges our customers, commercial cleaning companies, face and what we can do to support them.
We don't just listen to our customer's feedback – we take action. Last year, our customers let us know that payroll was a headache. So, we built an integration with QuickBooks. On a customer panel (which we hold once a month – we really DO love speaking to our customers!) we were told how useful it would be to have an "Upcoming Unassigned Shifts" list, so managers would never oversee a shift that hadn't been scheduled. TICK. Done.
We are always making sure we are focused on what matters most – providing value for our very specific customer base – commercial cleaning companies. As we dive into features, you will start to see where Swept and Jobber differentiate.
How does Swept compare to Jobber in terms of features?
Both Swept + Jobber offers a Messaging feature but they do different things…
Swept's Messaging feature provides seamless communication between a manager and a cleaner, allowing them to quickly solve any problems that come up during a shift.
Did you know? Messaging is the reason why nearly half of our customers came to Swept!
Jobber's messaging feature is well-suited to contractors or field services that complete a lot of one-off jobs or residential jobs where the field staff need to speak directly with the client. It isn't meant for a team and it doesn't have the ability to speak internally from manager to cleaner. However, you can have two-way SMS between client and manager (please note, this is only available on their most expensive package – Grow). Swept also allows you to have two-way communication between Client & Manager, however, the feature is included in all of our packages.
How much does Swept & Jobber cost?
Jobber: Pricing is based on users, which is anyone who needs to log into Jobber to view or manage the team's schedule, and functionality. The more features you need, the more you pay.
Swept: Pricing is based on how many cleaning locations you service. All packages have unlimited users and the functionality stays the same across all packages.
Swept
Jobber

Start – $150 a month up to 15 locations –

unlimited users

Connect $149 - Up to 7 Users

Grow – $250 a month, 16 – 30 locations –

unlimited users

Grow $229 - Up to 30 users (additional users $19/mo)
Now let's make this apples for apples
.
Imagine you own a commercial cleaning company. You have 30 locations, 8 managers, and 10 employees (great work!). As you continue to grow at speed, you realize that you need a scheduling and a time tracking system (among other things) to help you keep organized and in control.
How much would Jobber cost?
Time tracking is only available on Jobbers' Connect and Grow packages. This means it would cost you approximately $149 a month for the Connect package. On top of that, only 7 Users are included in this package, so for every additional User, you will need to add on $19.
How much would Swept cost?
As you have 30 locations, you would be a great fit for our Grow package, which works out at $150 a month. As with all of our packages, you have unlimited users included with this price and no hidden fees!
So…. Swept vs Jobber?
If you run a commercial cleaning business and want an easy-to-use, cost-effective platform for your entire team, then Swept could be the all-in-one solution you need.
However, if you're a field services company that is looking for support in a variety of administrative tasks, Jobber could be a fit for you.