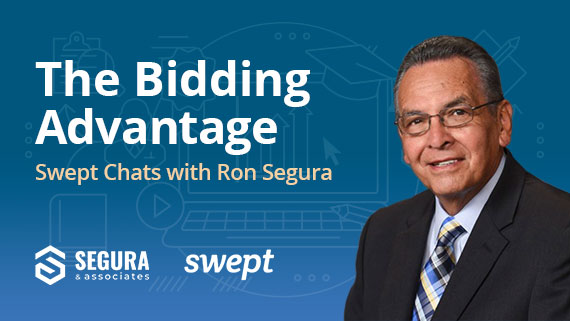 The Bidding Advantage: Swept Chats With Ron Segura
We had a chance to sit down with the legendary Ron Segura (Though he wouldn't refer to himself as such…but we do) and have an eye-opening talk about winning bids, building a trusting relationship with your clients, separating yourself from the crowd, and the pitfalls of starting out in the business.
For those of you who don't know Ron, let's have a quick intro:
Ron Segura has been blazing trails in the commercial cleaning business for over 50 years! He is the founder and president of Segura & Associates, a prominent consulting company that works with all the varied sectors of the cleaning industry.
Of all the contracts Ron has had over the years, the 10 years he spent overseeing the care and cleaning of (over 4.5 million square feet!) the Walt Disney Company, really speaks to his incredible skills as a leader and organizer. Not just anyone could handle that kind of planning. But planning and strategizing is what Ron does best. He acts as an international cleaning consultant for large contractors, corporate campuses, schools, and universities all over the globe. Ron has assisted these organizations with re-engineering their operations in order to enjoy exceptional service while meeting strict budgetary requirements. Not an easy task!
More importantly though, Ron cares about building relationships more than amassing clients. He has dedicated more than half a century to cultivating his interpersonal skills with his clients, cleaners, and partners. Which in our books, makes him about the best expert listener you could find. He knows how to create lasting professional relationships built on a foundation of trust and taking pride in doing the best work you can do.
So come along with us on our Q&A journey with the accomplished Ron Segura.
Hope you enjoy
PS: Due to the wealth of knowledge Ron shared with us, we have decided to split this Q&A into two parts. Please look forward to part 2, coming to a Swept blog near you soon!
Q- So what kind of advice do you have for the smaller companies just coming up in the commercial cleaning business?
A- When I first started in the industry, you literally had to knock on doors. You could walk into a building, say "hello I am interested in submitting a proposal to clean this building" and they'd take you to talk to someone in charge. These days you could walk into ten buildings and you'd never talk to anyone in charge.
The ultimate goal is to have a constant stream of leads/prospects. Everyone has a busy schedule. That's something that never changes. Your best bet is to allocate time every day. Even if it is only half an hour, but every day, try to reach somebody.
Also, you need to write down, and memorize, why people would want to do business with you. If you can make a couple of statements within 45 seconds to a minute that really identify the key benefits of why someone would want to do business with you… This'll go a long way to helping prospects really remember your company when they go out to bid.
Lastly, there are always going to be hundreds of companies out there doing the same thing as you, so you really need to set yourself apart. If you have something of value to present to, or offer these people…that's going to take you far.
If you already have a few accounts, you should identify what kind of accounts you do well. Maybe your thing is medical facilities or multi-tenant office buildings. Perhaps educational centres or daycares. Wherever you find your expertise lies, that is your target, and that's where you need to focus your attention and efforts.
Heck, if you've got an account you like, jump onto google maps, and look at the surrounding area. You'll see the buildings labeled around yours and what they are for. Even something as simple as that can get you a few prospects/leads.
Q- In your experience, how soon is too soon to follow up on a lead. You've initiated contact, and at least a degree of interest is shown, so where do you go from there?
A- I use this religiously. After my initial meeting, I'll send supplemental information on my company or our process, then within a few days I'll send a follow up to be sure that they received the info I sent. This way I've got three points of contact within a week.
Typically when I send info to a prospect, I'll add that I would love to discuss once they've had a chance to review. That gives you a reason to follow up on that.
Once you follow up, you need to remember that these people are busy, and they'll be hesitant to commit to a time to discuss further. The best way around this is to suggest a time yourself. This will compel them to commit to something, which works better than leaving it in their hands.
Q- What are your thoughts on cold calling? Is it really beneficial to follow a lead that hasn't necessarily expressed interest, or even reached out for services?
A- From my experience, doing your homework, and taking a considered approach to leads and prospects are going to get you much better results than reaching out to strangers.
An important thing to remember about cold calling is that in most cases, we are talking, 90% of the time, you won't be talking to decision-makers. That doesn't mean there is no benefit to it, but if you do decide to take that route, be sure to keep your expectations tempered. Knowing what to expect, and that getting in front of a decision-maker won't be easy this way, will at least make the situation easier to navigate through.
But let's say in deciding between cold calling, compared to telemarketing, or proper marketing, I'd go with marketing every time.
Q- How can you get a customer to upgrade their service in today's (well any day really) bottom line-obsessed company culture?
A- Trust is everything. You can't upsell a client if they aren't even sold on you yet. That being said, once you have that trust, that relationship in place, they'll actually value your suggestions.
You should always approach any client relationship as the beginning of a partnership. You don't want to be a service, you want to be a partner. Sounds like a semantic difference, but it is actually the difference of trust. The more you perform to the best of your ability, the stronger this trust will be.
Have good communication. Build a good relationship, and most importantly, do good work. This will get you far.
Watch the webinar here
To be continued…
Take a look at our Bidding Calculator and our Sales & Bidding Toolkit