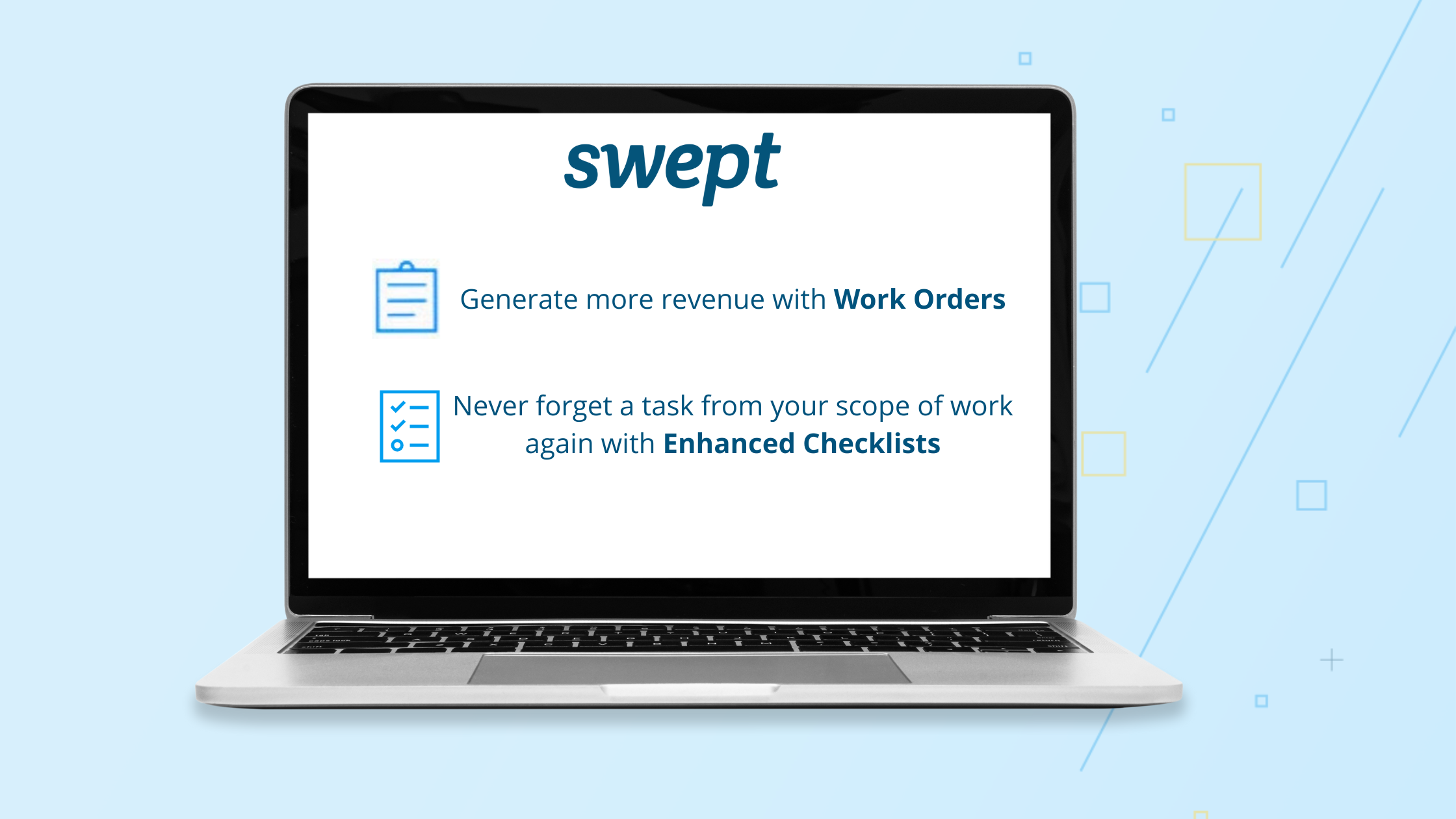 When you're a cleaning business owner, there's a lot to do. You need to get new clients, keep existing clients happy and find time to train your team members. The world is changing and so is the way we do business. Your customers want personalized service that goes beyond just standard janitorial services. They want high-quality cleans, customizable services, and long-term relationships with companies that they can depend on.
At Swept, we have been working hard to evolve with our customers, and are delighted to deliver two new features that will support commercial cleaning companies to scale and grow their business - Work Orders and Enhanced Checklists.
Earn more revenue per contract, and offer more value to your customers, by providing specialty services with Work Orders
Use Work Orders to manage your one-time and infrequent cleans alongside your routine checklists! An example of this would be annual carpet or window cleaning. By adding on these specialty services, you can offer further value to your clients, and generate even more revenue per contract! Work Orders can be scheduled alongside regular shifts and progress is tracked alongside your day-to-day work. This is a great tool to upsell after bidding on a contract or deepening your relationship with an existing customers.
Real-time progress updates
No more travelling to and from locations or scrambling for updates - the new Work Order feature provides all the details that you need from the field, straight into the palm of your hand. Work orders provide real-time data which is key to taking a more proactive approach and improving your operational processes. Cleaners can send you notes about the task at hand in real-time - so you are kept up to date and know what's going on in the field. Work Orders provides a centralized system that supports your team in getting the job done - reducing mistakes, disorganization and duplication of tasks
Better traceability and accountability
See all tasks that need doing, when they were requested and who's working on them at any given time. It's a simple way of getting everything tracked in one place so you can focus on your end goal: making sure the job is done!
Budget and plan better
When you create a Work Order, it gives you an estimated total for billable hours. This means you can see how much of your budget is being eaten up by the job in question. You can then determine whether or not this is something worth pursuing, based on your budget for a certain time period.
Work Orders also help to keep pricing consistent and accurate. By having a formal record of what work was done, you can review to ensure you are not charging a client too much or too little in labour or material costs based on what it took to complete the job.
Never forget a task from your scope of work again with Enhanced Checklists
Enhanced Checklists give you the ability to assign checklists to a cleaner, so they are aware of the tasks they need to complete through their shift; improving efficiencies and ensuring accountability.
Leave a task in progress
Life happens and we know things come up and need to be dealt with right away. So now, cleaners have the ability to leave a task in progress and return to it when necessary. Previously, all checklists were marked either complete or incomplete.
Retain clients
Enhanced Checklists allow you to set daily, weekly, monthly, quarterly and even annually recurring checklists, meaning you can set it once and it's automated forever more – or until you put an end date! Find out your clients' preferences, detail them in the checklist and know that the high standard expected has clearly been communicated to your cleaners at the start of their shift - leaving no room for mistakes!
Work Orders and Enhanced Checklists are just two of many new capabilities that the Swept team will be rolling out to support you and your business, cleaners and clients. You can expect to see us continue to fine-tune our products - with more features and functionality coming soon!