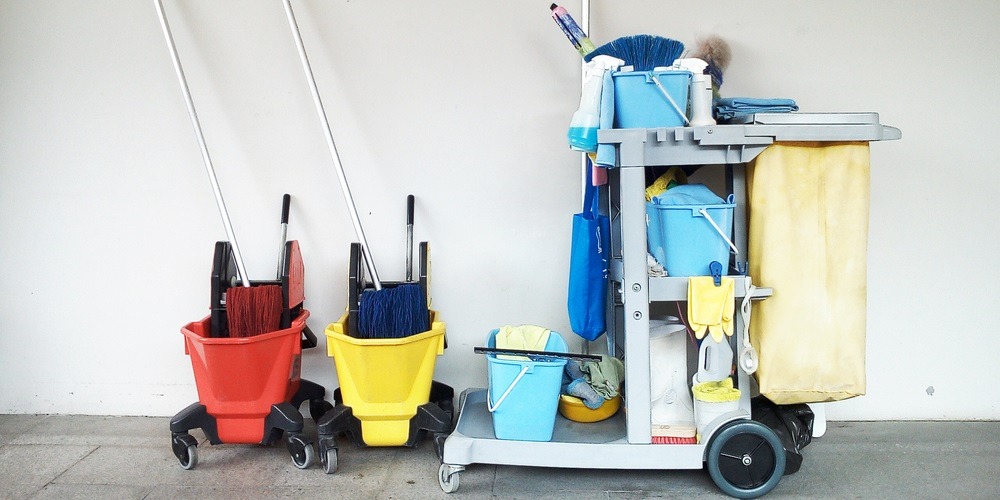 How much time do you spend every week trying to stay on top of your cleaning supply inventory? If you're like most janitorial business owners, it's probably more than you should be.
Since you have various clients, staff, and locations to manage, leveraging the latest technology can be one of the most effective ways to improve your efficiency and reduce costs.
Just like your business requires the right supplies to do the job well, as the owner, you need a system that lets you manage, track, and order inventory from a single, easy-to-use platform.
Is one of your business goals to improve supply management? Let's take a look at how you can make this process much easier.
Organize Everything in One Place
For many janitorial business owners, managing supplies across multiple locations can often feel like a full-time job.
One of the most challenging aspects of improving supply management is that you're often working with data coming in from many different places. Phone calls, texts, emails, phone alerts, and even post-it notes stuck to your desk can all add up to create a confusing and inefficient process that costs your business valuable time and money.
However, there is a way to replenish supplies quickly and easily—you can even do it from the palm of your hand.
With the use of a digital cleaning supply management system, you can get real-time updates via a web or mobile app, showing you exactly what you need and where it's needed. The cloud-based system makes it simple to track items across all your locations, and it can even inform you when supplies are running low and how essential they are.
In the busy world of janitorial cleaning, one of your most valuable commodities is time. By streamlining your supply management with an easy-to-use platform, you can spend less time getting bogged down in day-to-day tasks and more time improving your business.
Use Software to Order Supplies on the Move
In the same way that your staff needs the right equipment to do their jobs efficiently, you need tools that help you be more productive with every minute you have.
By using an online system created specifically for cleaning supply management, you can transform one of your most time-consuming tasks into a quick and simple exercise. Since the system is accessible from any PC, laptop, or mobile, you can get real-time updates wherever you are and manage your inventory even when you're on the go.
The mobile software shows you exactly what you need, where you need it, and the priority of the order. It can even generate a shopping list for you, just in case you want to swing by a local supplier and grab urgent items.
As a business owner, some days are a frantic race against the clock. But with our intuitive cleaning management software, we can help you do more with your time and finish the day with an empty to-do list.
Use the Cloud to Clean Up Your Data
Many janitorial businesses rely on a series of spreadsheets to manage supplies, resulting in limited access and a mountain of complex data. One simple mistake with a formula can result in wasted time and money.
Furthermore, storing all your valuable information on a local computer is a recipe for disaster. All it takes is an unforeseen accident, such as a fire, flood, or burglary, and your data is gone, never to be replaced.
Fortunately, that's where the cloud comes in. It takes all the data that you normally keep on local computers, hard drives, and USB sticks and stores it safely on a secure virtual server. Once you upgrade to a connected, mobile business, you immediately benefit from greater flexibility, more reliable data, and lower costs. Your supply management information is available anywhere, anytime, and it's automatically backed up on the cloud for ultimate peace of mind.
When you run a janitorial business, you must deal with multiple locations, suppliers, employees, and clients every day, and tracking your cleaning supplies shouldn't slow you down. With a cloud-based supply management system, you can always work with the latest data, and you never need to worry about losing it.
Are You Interested in Improving Supply Management?
Managing cleaning supplies might not be a glamorous part of your job, but it's one of the most vital. Having the right tools in place can be the difference between a smooth operation and running around all day trying to fix problems.
We're here to make your supply management easier and faster. We are SweptWorks, and our job is to help business owners like you save time, stay organized, and reduce costs.
If you'd like to discover more about what Swept software can do for you, get in touch with a member of our team for more information.
Swept's janitorial software helps janitorial company owners build trust with clients and get ahead of the competition by giving them the tools they need to spend more time managing their business and less time working in it.
To see how Swept can help your janitorial company grow, schedule a free demonstration with one of our experts today!