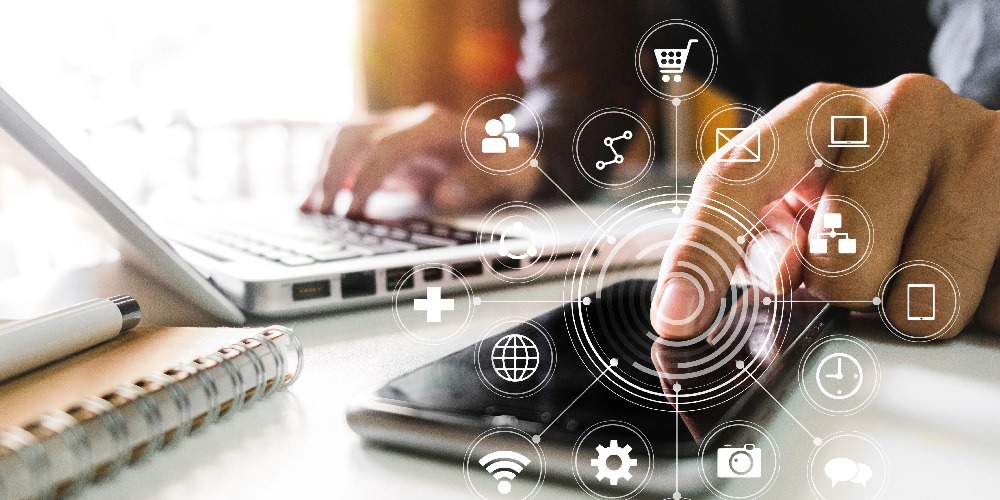 There are more than 1 million commercial cleaning and janitorial services doing business in the US. It can be challenging to get noticed, especially in an online world, where in many cases, people just ask Google for "a janitorial cleaning service near me."
It takes a strategic marketing approach to stand out from the pack and land new clients.
How Marketing Works
Consider the time before the internet: people would use a directory like the Yellow Pages, they would go to the section for commercial cleaning companies. They'd scroll down a list and search for something that sounded good. If they recognized a name, they were more likely to call that company over one that they'd never heard of before.
Today, everyone searches online. If they already know your name (or your brand, if we're using marketing speak), they'll search for you. We want to focus on those who don't and how they can get to know you.
Marketing works by getting your name and message in front of potential customers. As you think about the best way to market your janitorial business, keep in mind a few things:
Consider your target customer, so you make sure your message speaks to them
Think about what makes your service different from another janitorial service
Marketing Strategies for Janitorial Companies
Let's start with a few strategies that won't cost you anything.
Customer Referrals
One of the best ways to grow your business is to ask for referrals from happy customers. After doing surveys, marketers report that customer referrals generate the highest quality leads. When your customers refer someone, they're giving you an implied endorsement.
Word of Mouth
Word of mouth is still one of the best ways to market your janitorial business. Take advantage of all the free or low-cost ways to plant word of mouth:
Empower your employees to be ambassadors
Consider an incentive program for employees who provide leads
Use social media tools
Engage online with customers
Provide helpful information
Showcase your value and the story behind your company
Solicit Reviews
You'll also want to solicit reviews from satisfied customers. The best way is to simply ask them to review you, preferably on Google My Business. Make it easy: send them the link, and tell them how much you appreciate their business. Some janitorial companies will offer a discount on future services or another incentive for a review.
Remember, when consumers aren't already familiar with your company, they'll check out what others think before getting in touch. A mere handful of glowing reviews won't help either. On average, research shows that consumers want at least forty online reviews before they trust the star rating.
That said, poor reviews don't hurt as much as you think—as long as you respond to them promptly and resolve any problems.
Those are some great free marketing tools. Now, let's talk about some ways to market your business that aren't free but will provide a high return.
Digital Marketing
First of all, what is digital marketing? It just means using online methods to market or advertise your business. There are all sorts of different kinds of digital marketing: email, lead generation, content marketing, video, and more. All can have value, but we're going to focus on the two strategies that can really impact your bottom line:
Facebook Ads
Facebook ads are a quick a fairly simple way to reach potential customers. This isn't the same as 'boosting a post' which used to be a Facebook Ad. That is where if you like an organic social post you'd 'boost' it with a marketing spend. Facebook has evolved and also now includes Instagram. You can create a quick ad for your business by adding in some great photos and some clear headlines and choosing who you want to target to. If you are keeping your geographical area small it actually won't cost you very much to get your advertisement in front of your target customers. You can highlight what sets you apart, your great service, even promote a customer testimonial. If you go to the Facebook Ads Manager and follow their basic set up you can have an ad up in no time.
Paid Search
It can take time to build up the content of your website to move up in organic rankings on search engines (also referred to as search engine optimization, or SEO). Paid search (search engine marketing, or SEM) can put you at the top of the page when people are searching for janitorial services. Hot tip: You can also buy your competitors' search terms.
When using paid search, you're bidding for the right to show your search term ad over someone else's. You'll pay each time someone clicks on it (hence the name Pay-Per-Click, or PPC). You can target the ideal customers for your service and limit your ads by the geographical areas that you service.
Pro Tip: Check the cost of various PPC keywords for free with Wordstream's Keyword Cost Estimator.
The Importance of Metrics
Businessman John Wannamaker said that when it comes to marketing, "Half the money I spend on advertising is wasted. The trouble is, I don't know which half." That was in the 1800s, before today's non-stop marketing onslaught, but it's still true. Before you begin your marketing efforts, set goals and measure everything. What do you want to accomplish? Set your metrics to evaluate the performance of your effort and align it with your operational and financial goals.
The Best Way to Market Your Janitorial Business
You don't have to be a national company to use the same marketing tactics that the big guys do. Start by employing the above tactics, and spend a bit of money marketing online in your area. Then, watch your business grow!
About Swept
Improve your customer communication and manage all your janitorial operations with Swept. You can manage all your janitorial needs, including:
Tracking time
Smart scheduling
Having reliable inspection
Giving team instructions
Having worry-free supply management
Reporting on-site issues
Swept's janitorial software helps janitorial company owners build trust with clients and get ahead of the competition by giving them the tools they need to spend more time managing their business and less time working in it.
To see how Swept can help your janitorial company grow, schedule a free demo with one of our experts today!